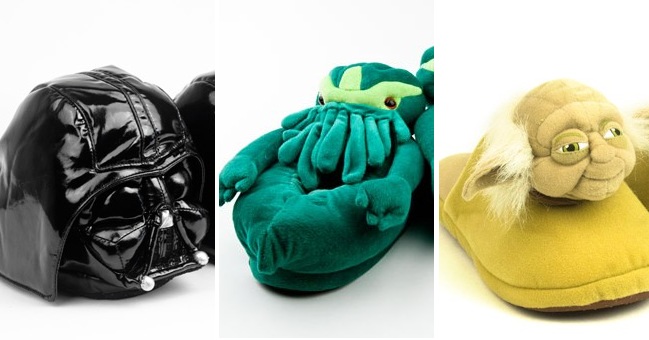 Starting this week, we decided to give extra attention to our visitors through our weekly slipper guide feature. We'll get to know you guys a bit more by focusing on specific reader groups and hopefully have some fun.
This week, we'll focus on all you sci-fi geeks out there with a few of our slipper sets. Buckle up, we're about to take off.
Darth Vader Slippers
The dark side icon Darth Vader is a legendary figure among the sci-fi crowd, so it shouldn't come as much of surprise that he gets to top our slippers list. His story is well-known throughout the world, making him one of the ultimate sci-fi favorites, especially if you're prone to succumb to the dreaded dark side.
Yoda Slippers
If the dark side isn't quite your thing, worry not, as we've still got the proper thing for you. The master of force, legendary Yoda also received a slipper makeover and will keep your tootsies warm and safe from the dark side.
Chewbacca Slippers
Rounding up the Star Wars domain, gentle giant Chewbacca is the ideal choice if you're searching for coziness and warmness. An intimidating, yet fragile and friendly creature, Chewbacca found his way to hearts of Star Wars fans around the globe. Therefore, a slipper edition was a must for this guy.
Star Trek Tribble Slippers
Get Star Trek Tribble Slippers
A Sci-Fi geek post without Star Trek just wouldn't feel right, hence we bring you a pair of Tribble slippers. We've opted for the cute domain on this one, and what's possibly cuter than the beloved little guys from the renowned series? Fuzzy parts secure your tootsies with extra coziness.
Cthulhu Slippers
What better way to wrap it up but with the dreaded Cthulhu. A brainchild of legendary H.P. Lovecraft, Cthulhu is arguably the most intimidating monster ever to cross the pages of any writer. Hundreds of feet tall, the infamous human, octopus and dragon mixture is described as a hibernating titan giving mankind constant massive anxiety in Lovecraft's short story "The Call of Cthulhu."
So that about wraps it up, hopefully you liked our selection, make sure to drop by next week for another weekly feature. In the meantime, hop over to our store and check out the full selection of awesome geek slippers in offer.