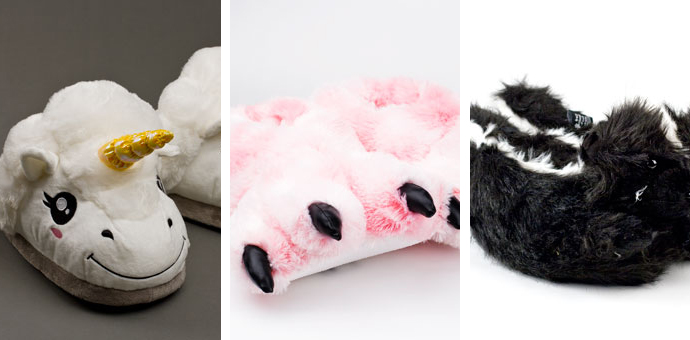 OK so this week we figured it's time to take as shift to the crazy side and bring you guys a guide on some wacky slippers! Not exactly you average flip-flops, these slippers are designed to grab attention and spice up your house walking experience with a healthy dose of humor. Check them out below.
Pink Flamingo Slippers
Getting right into the crazy zone, these pink flamingo slippers are bound to make everyone in your household at least chuckle, so why not get a pair and spread some good vibes?
Duck Feet Slippers
Give your kids a laugh of the century as you appear with a set of Daffy Duck feet. And not only that, because a pair of these slippers will keep your tootsies crispy warm with a fluff stuffing and soft fabric lining.
Unicorn Slippers
Did you know that Miley Cyrus was recently filmed boarding a private jet in one of these? We're not sure how that will make you feel about the unicorn slippers, but the fact is that they are very hip at the moment.
Green Dinosaur Feet Slippers
Let the world hear you roar! But seriously, these dinosaur slippers just make a perfect gift for your friends and family. They will make you feel like a true king of the castle, just give them a go if you won't take our word for it.
Skunk Slippers
It's time to pick it up a notch in the crazy domain with a pair of genuine skunk slippers. These will show that you have a great sense of humor and make a cool joke even if it's on your own feet. Would you dare trying them out?
Pink Tiger Paw Slippers
We kicked it off with a touch of pink and that's how we intend to wrap it up. And what better way than with a pair of pink tiger paw slippers? You'll be the fabulous king of the jungle in these! Technically that's a lion but never mind!
As always, make sure to check out or collection of best gift slippers and stop by next week for a fresh dose of slippers tips.