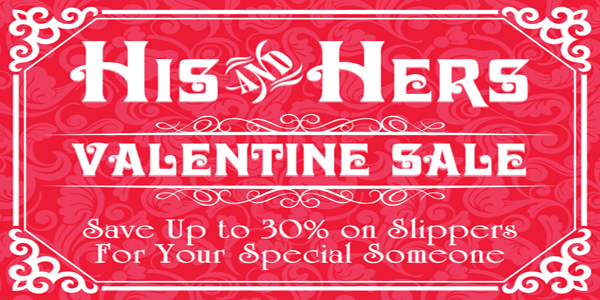 Be The Valentine's Day Hero!
Last week you were introduced to the BunnyGram, a fun and easy gift to give this Valentine's Day. If Bunny Slippers aren't your thing, new this week is the Valentine's His & Hers Sale. You will be the Valentine's Day hero while keeping more money in your pocket! There is a wide variety of slippers available. If you are shopping for a fella, the Blue Zombie and Cthulhu are always a hit (but you'll find many other options, too). If you're shopping for a lady, you'll find many cute animal slippers and luxurious spa slippers that are sure to delight that special someone. The Valentine's Day His & Hers Sale goes on from now until Sunday the 14th.
---
Shipping Cut-Off Date for Valentine's Delivery
Fair warning! The last day to place an order and have it arrive in time for Valentine's is Monday February 8th at 12-noon PST. Expedited Priority shipping level is strongly recommended for faster delivery. Order early and avoid being disappointed if something is out of stock!