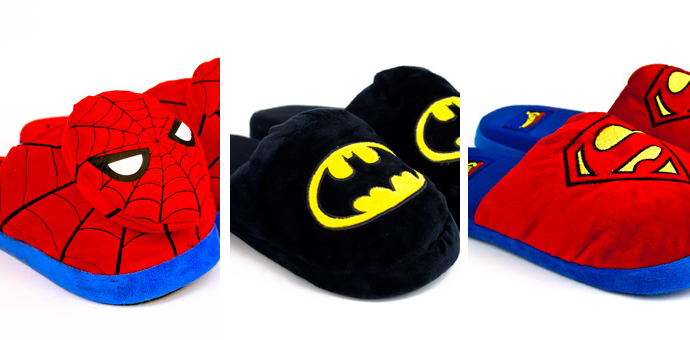 One thing you should remember in life is that there is always that you don't need superpowers to be a superhero. Whether it's your kids, a friend in need or a family member, there is always that special someone who sees you as a true hero. So in that spirit, check out some of the superhero slippers we've got prepared for you.
Superman Slippers
What better way to kick off our list than with a pair of genuine Superman slippers? Not a bird, nor a plane, these slippers will save the day for your tootsies as the comfiest pair of flip-flops around.
Batman Slippers
Taking a turn to Gotham City, these Batman slippers are the very thing our favorite billionaire superhero puts on his feet after a tiring day of crime fighting. Or at least that's what we like to think. Whichever the case may be, a pair of these makes a perfect gift for the holidays.
Spiderman Slippers
Rounding up the superhero icons, Spiderman slippers will provide you the ultimate comfort. But remember, with great comfort comes great responsibility, so use it wisely. Spider webs not included.
Teenage Mutant Ninja Turtles Slippers

Wrapping things up, we'll take you down the memory isle with a signature pair of Teenage Mutant Ninja Turtles slippers. If the four green guys are what you remember your childhood by, well, you had an awesome childhood. Speaking of Ninja Turtles, which one was your favorite back in the day?
Get Teenage Mutant Ninja Turtles Slippers
That about wraps up this week's feature, stay tuned for more.