Eek! Yikes! Help! Oh nooooooooo! Frankly, we're terrified! Do you think Bunny Slippers are all cute and cuddly and fluffy and precious? Well, think again! We've found the world's scariest Bunny Slippers, and let me tell you, they have chilled us to the bone. Not only that, we've spotted oodles of other frightening footwear creeping around the shop. They're sure to terrify even the most hardened amongst us. So read on, intrepid reader….IF YOU DARE!!!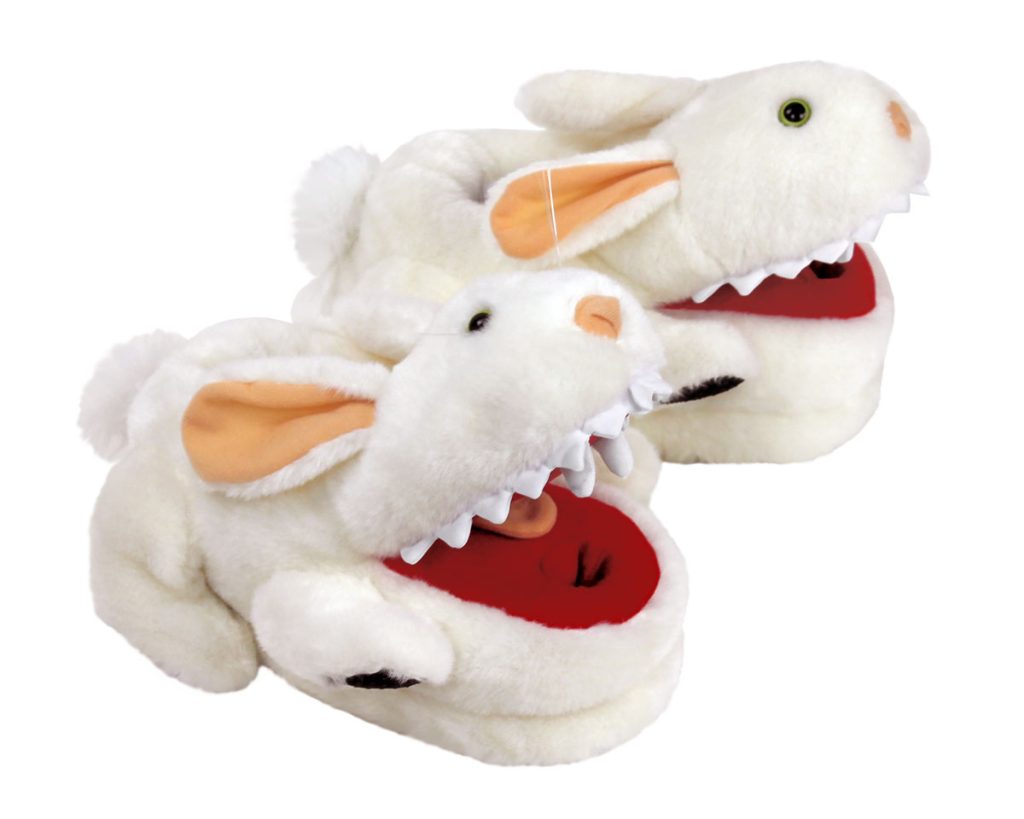 Monty Python Killer Rabbit Slippers: Welp, let's hop straight into the haunted hutch, shall we? These are the aforementioned World's Scariest Bunny Slippers. Right when you think you're safe, these rabbits with BIG POINTY TEETH will hop out of the closet and CHOMP CHOMP, YOU'RE DEAD! First spotted in Monty Python and the Holy Grail, the Evil Rabbits of Caerbannog have a vicious streak a mile wide. You thought they were safely sealed up in the middle ages, but no, they're on the loose and looking for fresh blood!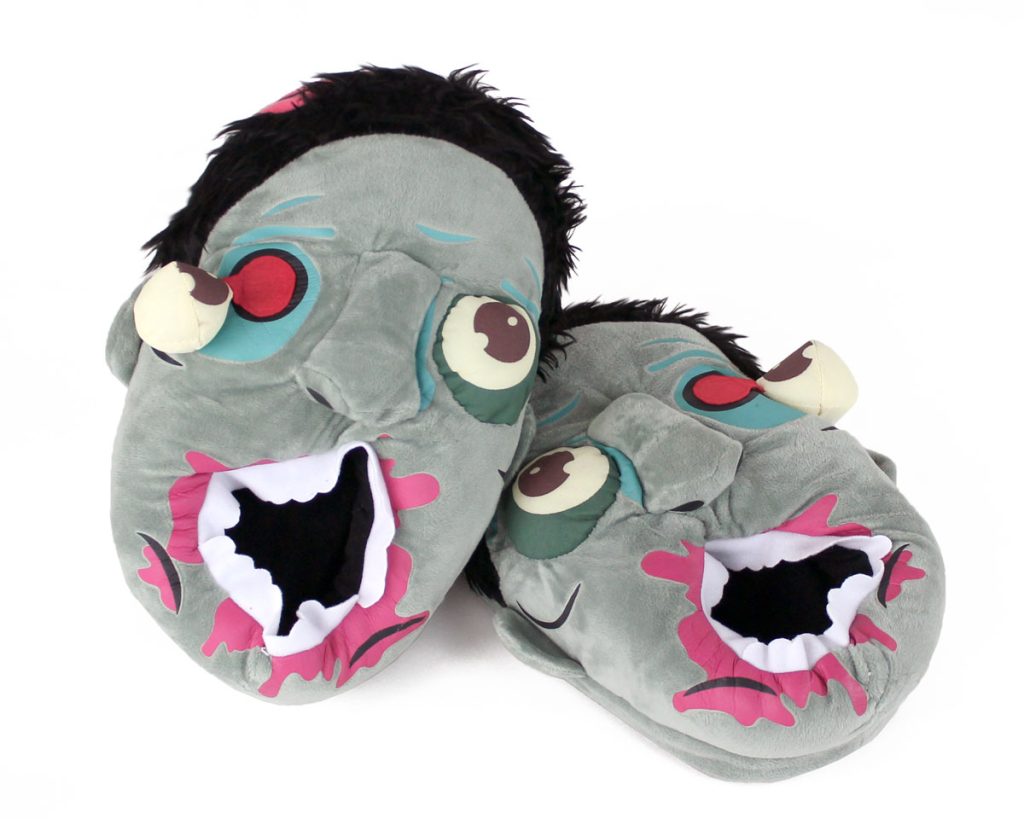 Blue Zombie Slippers: ARE YOU REALLY STILL READING THIS??? We thought, for sure, you'd have been scared off by now. (We've been hiding in a closet for DAYS. Thankfully there's wifi in here.) Well, if you haven't been frightened off by Killer Rabbits…try these Blue Zombies on for size. These may be the only slippers in the world that are officially classified as "Undead." What does that mean, exactly? Well, they used to be friendly, regular, happy, alive slippers, living their best alive, living, animated life. Until they were bit by a zombie!!!!! And they've never been the same since… they started to rot, their eyeballs fell out, and now they've got an insatiable appetite for brains. Yikes!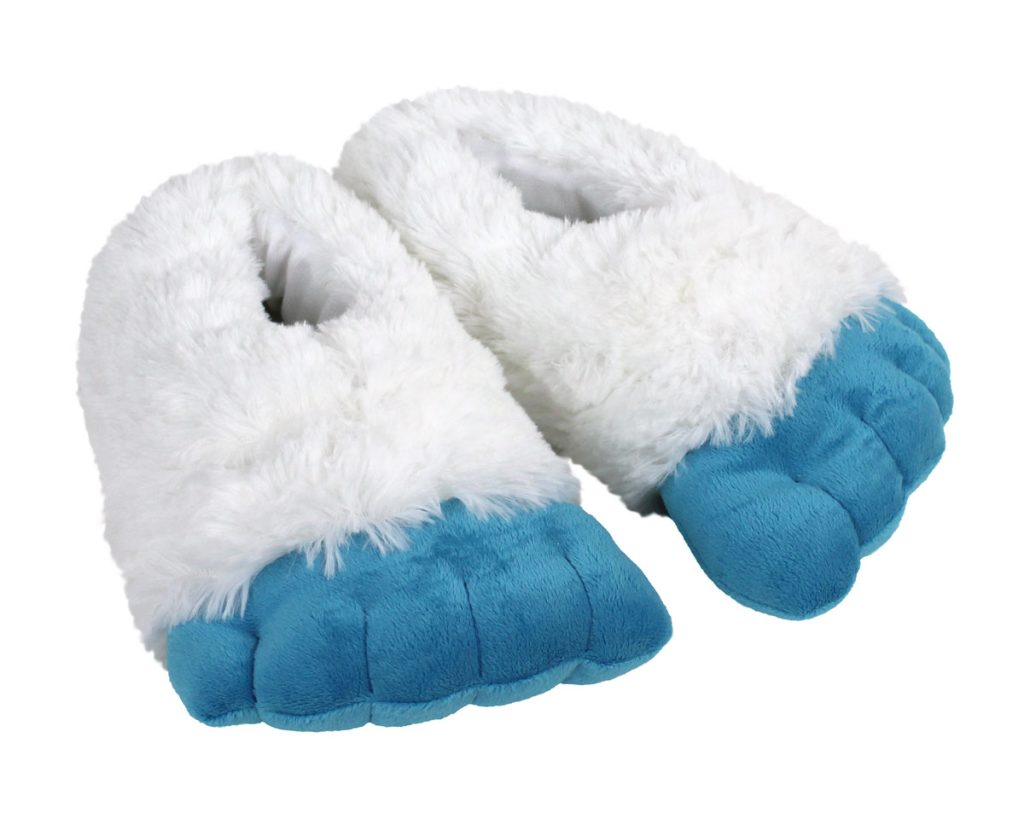 Abominable Snowman Yeti Feet Slippers: Holy Himalayas, now these feet are HUGE! They belong to the terrifying, yet elusive, Yeti. What is the Yeti, you might ask? Well, it's a giant primate who tiptoes around Tibet, snacking on unsuspecting hikers. Its toes are frosty blue, and it wouldn't have it any other way. Some folks say its feet are as cold as its heart. Now that's a chilling thought! These slippers are carefully crafted from an actual*, real** Yeti footprint, found by actual*, real** scientists!
* This may not be true
** This is definitely not true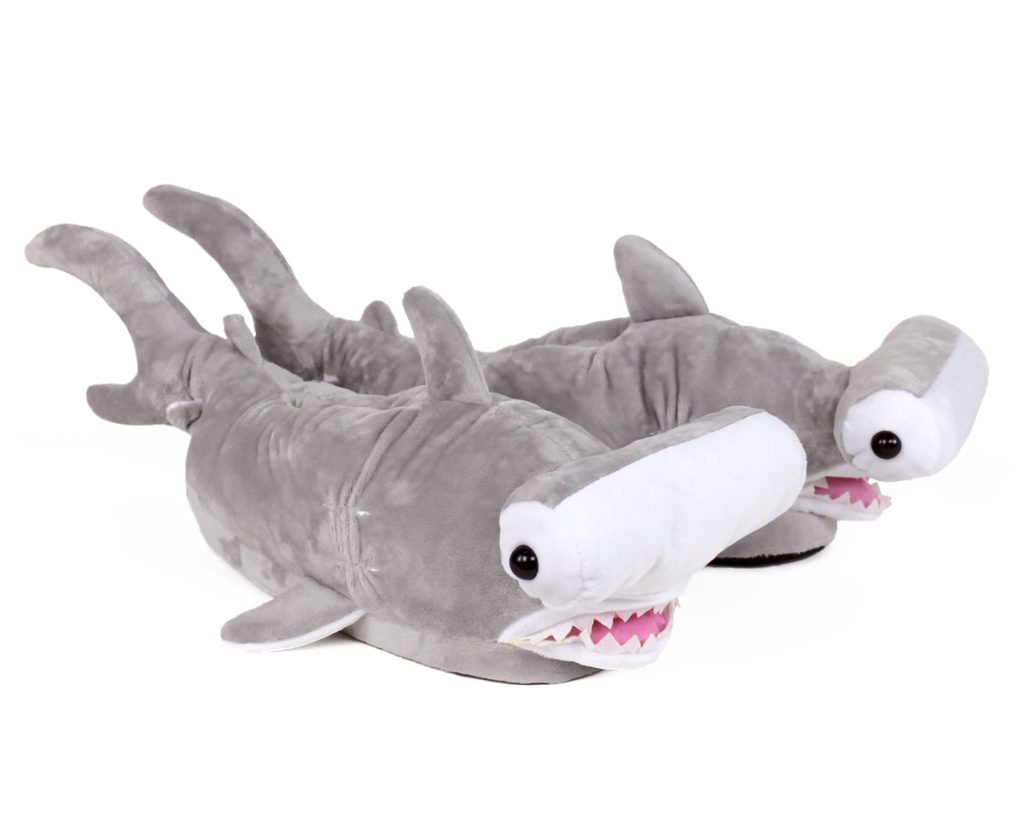 Hammerhead Shark Slippers: OK, if you're STILL reading this, you are seriously brave. Either that, or insane! In any case… if you're not scared of MONSTERS, what about a REAL ANIMAL, that's REALLY SWIMMING AROUND, RIGHT NOW. Can you handle the realness??? We can't!!! Sharks are scary, period. But Hammerhead Sharks, with their weird weird eyes and weird weird heads, are probably the creepiest of them all. We couldn't help but wonder… why are their heads so WEIRD???? Perhaps an actual***, real**** scientist may have an answer to this terrifyingly scientific question.
***They do!
****They really do!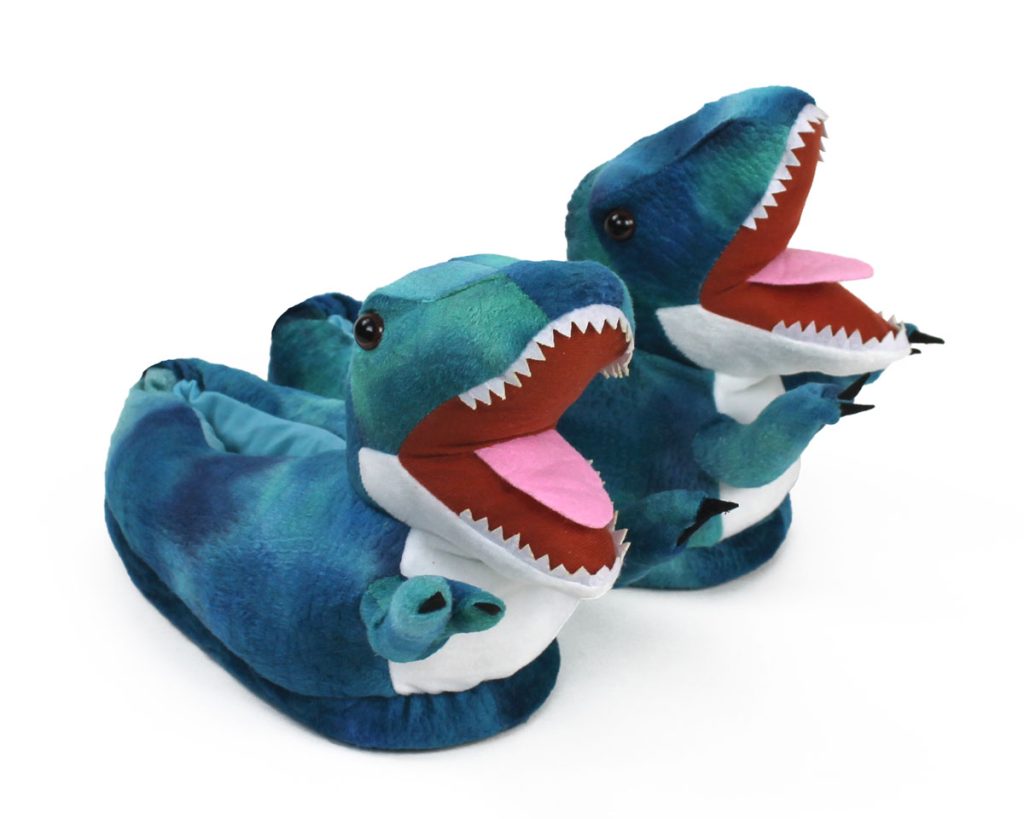 Blue T-Rex Dinosaur Slippers: Speaking of TEETH and GETTING CHOMPED, nobody chomped better than the Notorious R.E.X. That's Tyrannosaurus Rex to you! Straight outta the Late Cretaceous, these 10.5″ dino slippers may be slightly smaller than the real thing (which measured 40 feet long), but they're still serving FULL FEROCITY. In fact, these tiny yet mighty slippers are in a permanent ROAR-ing, CHOMP-ing mode! They're never not chomping! Now that's fierce. Think you can handle it??? (We can't! Still hiding in that closet, thanks for asking!)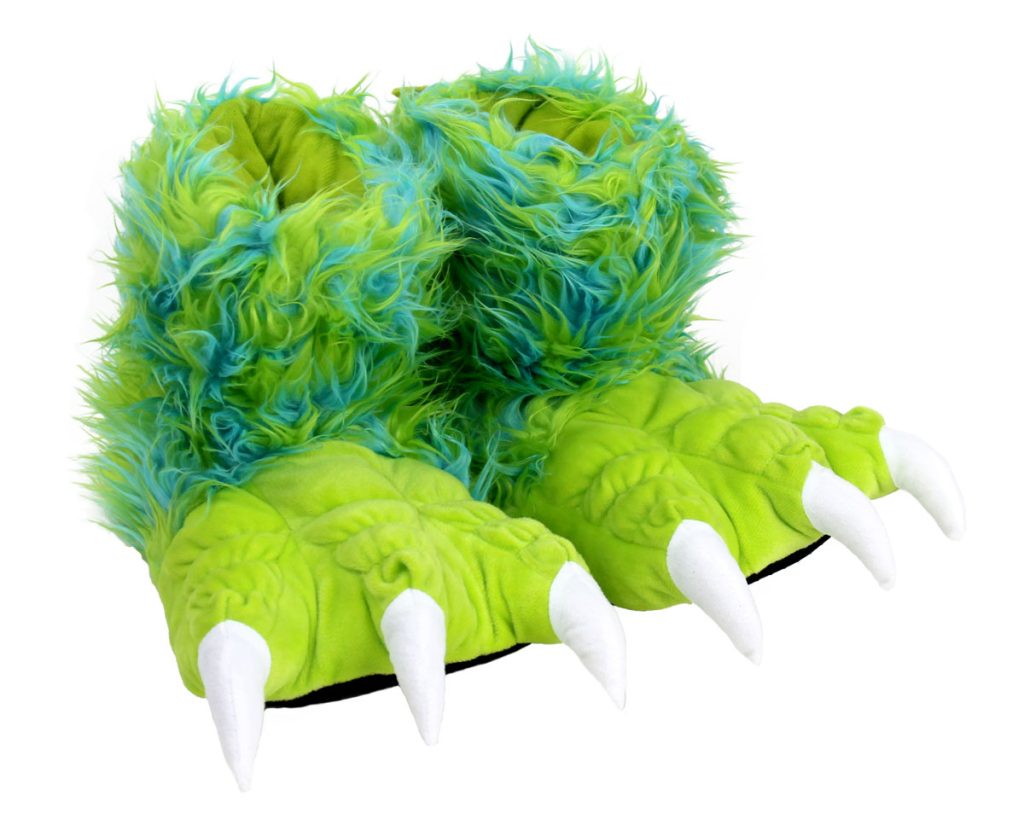 Green Monster Claw Slippers: Spooks. Frights. Things that go bump in the night! That's what Green Monster Claws are made of! Studies show that 73% of beds actually have monsters living under them. And that's a fact!***** Imagine the look on that under-the-bed Monster's face when you stroll into the bedroom with these babies on! They won't know what hit 'em. And you KNOW they'll be green (ok, they're already green, but even greener) with envy. They might just pop back under the dust ruffle out of pure shame. Please remember, only YOU can prevent monster attacks!
*****That's not a fact.
If you've made it this far, dear reader, you truly have nerves of steel. Either that, or you're a, a, a, m-m-m-m-Monster!!!
Want to see even MORE scary slippers??? Enter this Hall of Horrors!