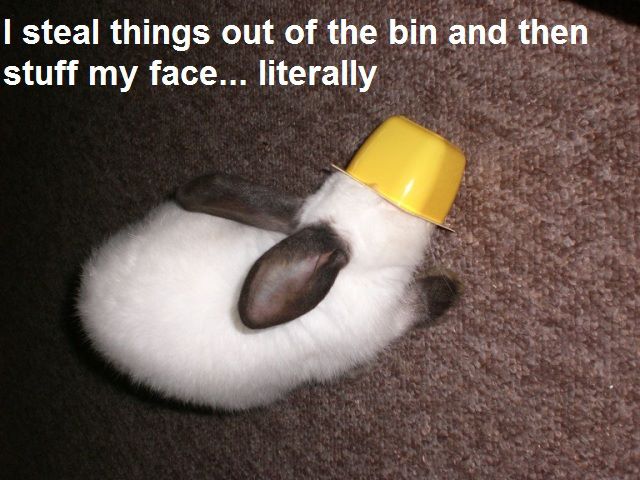 One of our favorite new feeds for rabbit content is Bunny Shaming, a Facebook page that mixes confessional captions with bunny portraits (some unsuspecting, others willfully mischievous), all to hilarious effect. We featured this phenomenon previously, but so smitten, in fact, we're we, that we reached out to the page's administrator for a short interview. Our questions, and her answers, are embedded below…
From Hop to Pop: Tell us a little about yourself.
Bunny Shaming: My name is Sarah, and I've been a "bunny mom" for a little over 10 years now. As you might have guessed, I'm pretty much obsessed with bunnies. I live with my own little menagerie – not just bunnies. Currently I have my two bunnies, three guinea pigs, two fish tanks, a foster bunny, and three foster hamsters. I volunteer with a small animal rescue, 4 Lil Pigs n Buns, and am an educator with the House Rabbit Society, so I'm pretty passionate about adoption and animal rescue! As for my day job, I'm a fisheries biologist, so I am surrounded by animals in most aspects of my daily life.
From Hop to Pop: I assume you have a rabbit of your own? What's he or she like and are they bad bunnies?
Bunny Shaming: I have two rabbits of my own. Chloe and Kahlua are both rescued rabbits. Kahlua is, for the most part, fairly well behaved. He does tend to chew on stuff, but he looks terribly guilty when I scold him! Chloe (pictured below), is my little troublemaker, and she is featured prominently on the page! She manages to get into a lot of mischief, whether she means to or not (and she DOES mean to sometimes!) She will eat anything and EVERYTHING, so I have to be careful about bunny-proofing. My first bunny Zoie is currently featured on the page's cover photo. He almost never chewed on anything, but he would get into mischief trying to find food! Milhouse, Chloe's previous bonded partner used to climb baby gates. It was something to see. All the bunnies I've ever owned have been so special to me, and I will always have bunnies in my life.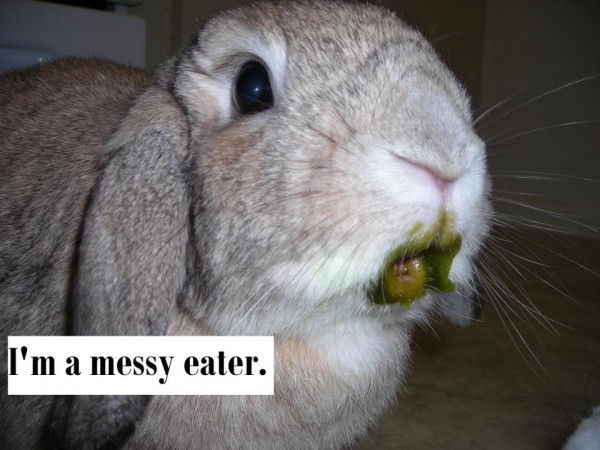 From Hop to Pop: I'm guessing that Bunny Shaming was formed in response to the Dog Shaming meme. Was this the inspiration and when did you launch the FB feed?

Bunny Shaming: Yes, Bunny Shaming came about when I saw the Dog Shaming site. I LOVE Dog Shaming – makes me laugh hysterically! One day I was looking at Dog Shaming posts and I thought, "Well, bunnies misbehave too!" I come across people so often who think that bunnies do not have personality – they are thought of as "starter pets" or farm animals; they are confined and ignored in outdoor hutches. My bunnies live inside as house pets – as they should. I thought that Bunny Shaming could help get the word out that aside from being cute, they are smart and entertaining members of the household – just like dogs or cats. So, Bunny Shaming was born.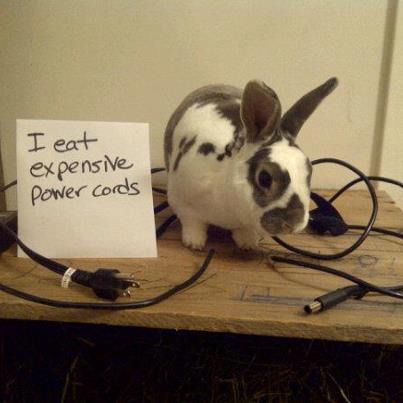 From Hop to Pop: The page seems to be growing quickly. What's the response been like?
Bunny Shaming: I just checked, and within the last few minutes, Bunny Shaming has officially reached 800 "likes" (writer's note: it's now up to 922 followers!)! The page has really taken off these past couple of weeks. It does seem to come in waves – whenever a particularly large page shares one of Bunny Shaming's photos, I can definitely tell! I'm actually rather flabbergasted that the page is already at 800 "likes". I'm thinking of doing a special photo contest when the page reaches 1000 fans. I'm so happy that it's really taken off, but honestly, I'd keep doing it if I only had 50 fans. It's become a sort of sanctuary for me! I can always look at the photos and laugh at all the shenanigans that bunnies get into. I've had an overwhelmingly positive response to the page, and I am thankful to everyone out there who supports and shares the page.
From Hop to Pop: Any plans to build a site or are you just gonna keep it on FB for now?
Bunny Shaming: If the momentum keeps up, I might try my hand at building a site, even though I don't really have much website experience! My life has been so busy that I haven't really had much chance to even think about it! For now, it will remain a Facebook page. Stay tuned, and we'll see what happens.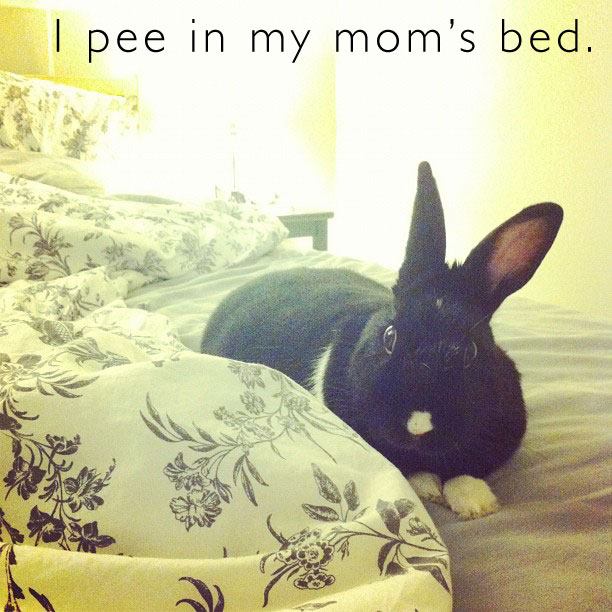 From Hop to Pop: Where are the posts coming from and what's your favorite so far?
Bunny Shaming: The posts are coming from bunny people all over! I've shared the page on my personal Facebook page, and I have many "bunny friends", so several of the posts have come from people I'm familiar with. However, a great many have been submitted from people I don't know, so it's nice to know that word of the page has spread far beyond my own "friend circle".
Goodness, a favorite so far? I think the one that made me laugh the hardest so far is the one of Midnight the bunny peeing during a photo shoot at the SPCA (pictured below). The photo was submitted by my friend Sünje, who volunteers at the SPCA Tampa Bay in Largo – it's a one-in-a-million shot! I'm always happy to post "shaming" photos of bunnies looking for homes! It helps get them some attention. I think some might worry about showcasing "bad behavior", but I think it just helps show that these bunnies have personalities! There have been so many great photos submitted.
From Hop to Pop: Feel free to add anything you want to say here.
Bunny Shaming: In addition to all the great "Bunny Shaming" photos, I do try to post "bunny public service announcements". Part of my passion about bunnies is to get the word out that they are wonderful pets, but they require proper care and are a long-term commitment. They are not a child's pet or an Easter novelty. I hope that Bunny Shaming can help get the word out that all bunnies should be spayed/neutered, live indoors, and eat a healthy diet. Great rabbit care information can be found at Rabbit.org. I will always promote adoption as well! Thanks for the interview, and keep checking Bunny Shaming!
From Hop to Pop: Our sincerest thanks to Sara for taking the time to talk with us. Hop on over to Bunny Shaming and submit your own pictures!
Contact us: travis [at] bunnyslippers.com