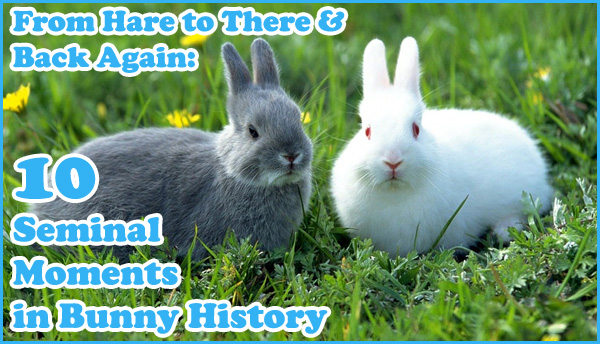 The humble rabbit has long fascinated, charmed, and entertained their human handlers, both here in Western culture and in cultures around the globe. Noted as a symbol of fertility, rebirth, Spring, good luck, and as an example of the wily, trickster archetype, the bunny's playful innocence (and breeding prowess) has been feted (and occasionally, denounced) in literature, film, art, fashion, pop culture, and commerce.
Below, we've compiled a list — along with an interactive timeline — of what we think are the 10 11 most important such moments in bunny history.
Please note that all pictures belong to their respective copyright owners…
FIRST RECORDED REFERENCE TO THE EASTER BUNNY (1682)
Much like the folklore that surrounds Santa Claus, the exact origins of the Easter Bunny remain somewhat murky. But this much we know: on the night before the holiday that bears his name, he delivers baskets filled with colored eggs, candy and toys to the homes of deserving children.
The tradition is thought to have its origins in southwestern Germany during the 17th century, where the youth eagerly awaited the annual visit of the "Oster Hawse," as he was then called. To prepare for the occasion, they would construct brightly colored nests to receive their gifts. The holiday was later imported to the United States by way of German settlers who arrived in the Pennsylvania Dutch country during the 18th century. In modern times, the nest has been repurposed for egg hunts.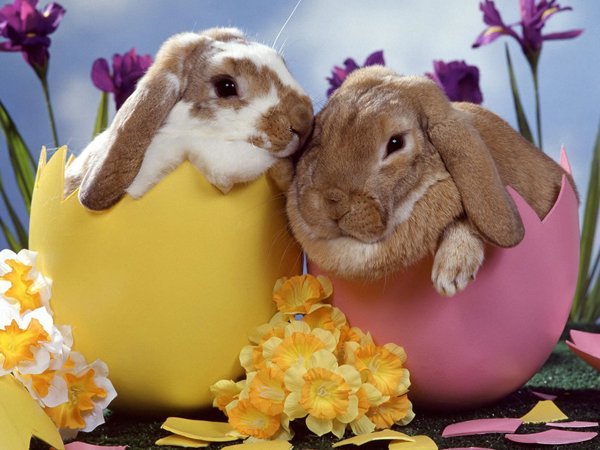 ALICE IN WONDERLAND PRINTED (1865)
Penned by Charles Lutwidge Dodgson (1832-1898) (under the pseudonym Lewis Carroll) as a parable for children about the shifting nature of reality, Alice's Adventures in Wonderland (as the book is formally titled) shares the story of Alice, a young girl who tumbles down a rabbit hole into a strange fantasy world (the aforementioned Wonderland) populated by unusual creatures, including rabbits, with anthropomorphic properties.
Alice grew a long neck in the story… how about looking at our giraffe gifts
Attesting to its lasting influence, the book has been translated into 125 languages and has never gone out of print. It has also been routinely adapted for other media, most notably theatre, television and film, the latter of which includes a 2010 production by noted auteur Tim Burton that saw Alice make her initial foray into 3-D.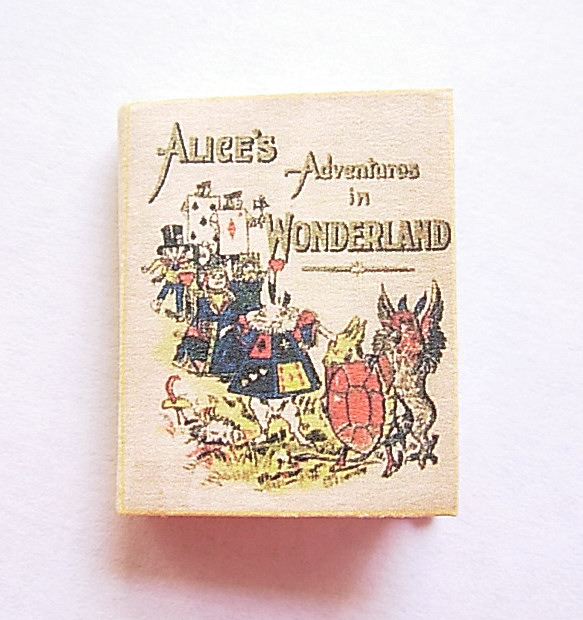 PETER RABBIT INTRODUCED (1902)
Developed by the English author, illustrator, and conservationist Beatrix Potter (1866-1943) to lighten the spirits of a sick child, Peter Rabbit first appeared in 1902's The Tale of Peter Rabbit, in which he is depicted, via both text and image, as a mischievous bunny with an appetite for vegetables purloined from the neighbor's garden patch. Based on the title's early success and critical reception, Potter would later feature Peter in five subsequent books, all of which would be used to spin-off related merchandise such as dolls, toys, clothing, homewares, and stuffed animals.
With more than 151 million books sold to date, the franchise remains one of the most popular and enduring in children's literature history. On a related note, Nickelodeon is said to be readying a new animated series for 2012.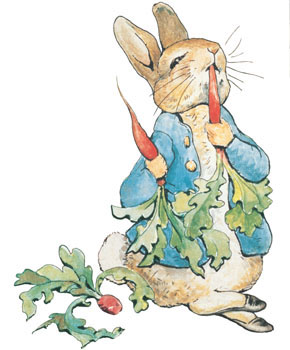 BUGS BUNNY CREATED (1940)
Arguably the most iconic rabbit ever, Bugs Bunny was created by a team of animators at Leon Schlesinger Productions, which would later be brought under the Warner Bros. umbrella in 1944. An early prototype of the character debuted in 1938; a revised figure, complete with signature handle, voice, carrot and catchphrase — "What's up, Doc?" — would emerge two years later in the short, "A Wild Hare" (watch it below).
The character's flippant attitude towards authority figures resonated with audiences (kids and adults, alike) in the period after WWII, fueling his popularity as well as that of the serial program on which he appeared, Looney Tunes. As a result, Bugs was subsequently repositioned as the official mascot for the show and Warner Bros. at large.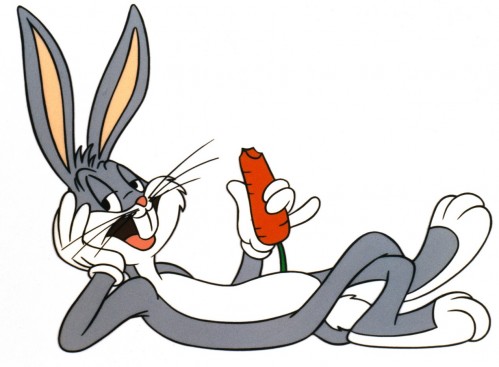 THUMPER LEARNS ON BAMBI (1942)
Said to be modeled (in appearance and youthful temperament) after Peter Rabbit, Thumper was introduced to audiences in 1942's Bambi, one of Disney's earliest and most beloved animated films. Along with a skunk, Flower, Thumper serves as Bambi's savvy sidekick, friend and mentor, learning him in the ways of forest life. He also acts as the film's moral compass, at one point invoking the Golden Rule: "If you can't say something nice, don't say nothing at all".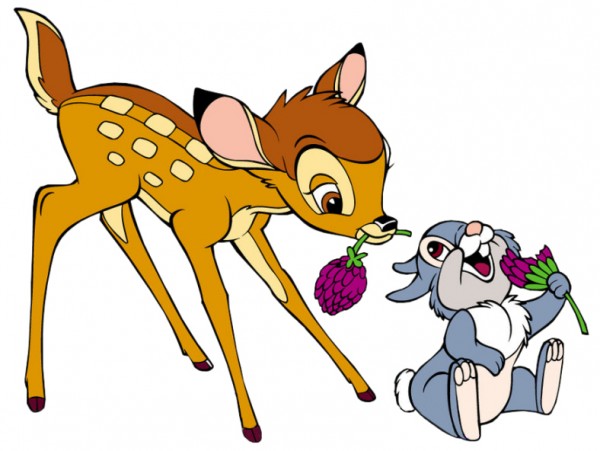 HARVEY PREMIERES (1950)
A 1950 film based on Mary Chase's play of the same name, Harvey features James Stewart as Elwood P. Dowd, a good natured (if somewhat eccentric) individual whose best friend is an 6'3.5″ tall rabbit (the titular character) that is invisible to all but Dowd himself. (As described by the lead, Harvey "is a pooka, a benign but mischievous creature from Celtic mythology.") Dowd's attempts to rationalize and share his imaginary friendship leads to an uneasy tension with his close family members, wary as they are of the scrutiny this brings in polite society. Dowd's obsession with Harvey, diagnosed here as a by-product of his (admitted) propensity to drink or alternatively, mental illness, is resolved to surprising effect during the film's conclusion.
Harvey, being that tall would need to get our mens fuzzy slippers.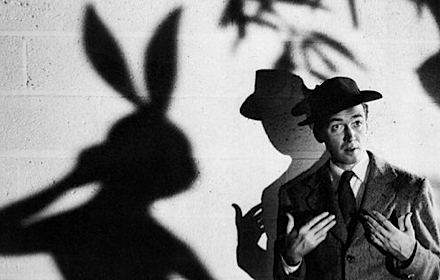 THE PLAYBOY BUNNY LOGO IS INTRODUCED (1954)
The first issue of Playboy was published in the December of 1953. Its founder and editor, a then 27-year old Hugh Heffner, had originally planned on calling it "Stag Party," but was forced to reconsider when Stag magazine threatened litigation. As a result, he had to scrap an illustrated mascot that his cartoonist Arv Miller team had previously developed (pictured below on the left). The design was subsequently retrofitted in the form of a rabbit (also pictured below, right frame).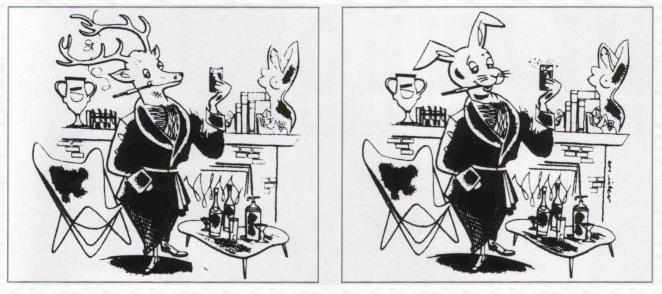 The Bunny concept was subsequently transformed once more by Hefner's creative director, Arthur Paul, into the iconic silhouette pictured below. It was added to the magazine's second issue and has been a part of every publication since (amazing, unaltered at that).
As Hefner would later explain it, the rabbit-cum-bow tie was selected for its "humorous sexual connotation" and "frisky and playful" qualities, which perfectly complimented the brand and its stated purview.
WATERSHIP DOWN PUBLISHED (1972)
A staple of high school and college lit. syllabuses for more than 4 decades now, Watership Down tells the story of a clutch of small rabbits that must venture across the English countryside in search of a better, more stable habitat. The rabbits, possessing their own language and history, battle predators, humans and other rabbits along the way. The mix of peril and temptation evokes allusions to Homer's epic poems, and World War II which is not coincidental: the author, Richard Adams, served with the British armed forces between 1940 and 1946.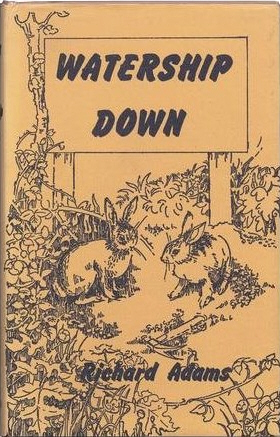 The book was later adapted into an equally beloved animated film (1978), from which a cell can be seen below.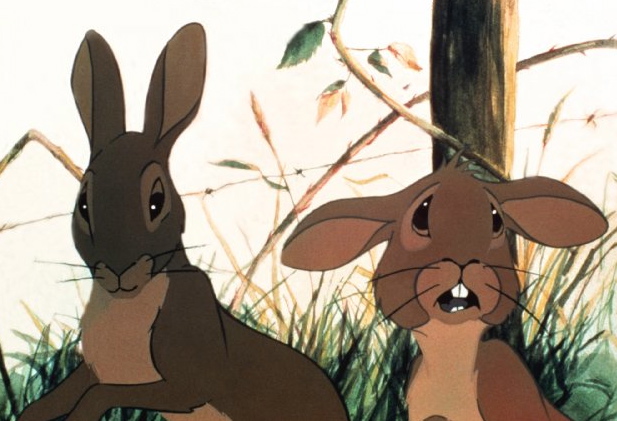 THE VW RABBIT HOPS OFF THE ASSEMBLY LINE (1974)
In an effort to fend off the increasing market share of Japanese automakers and their smaller, energy efficient automobiles, Volkswagen designed and manufactured the Rabbit as a replacement for its iconic Beetle. The car's distinctive, box-like appearance (reinforced by square headlights that were added to later models), superior fuel economy (up to 45 mpg in the city and 57 mpg on the highway), and American construction (the first foreign auto to be manufactured Stateside) won it a dedicated following, especially as the oil crisis of 1979 unfolded.
Between 1978 and 1988 (when the car was discontinued in favor of the Golf), Volkswagen sold nearly 1.2 million Rabbits, and they remain, even today, popular with car collectors and VW enthusiasts.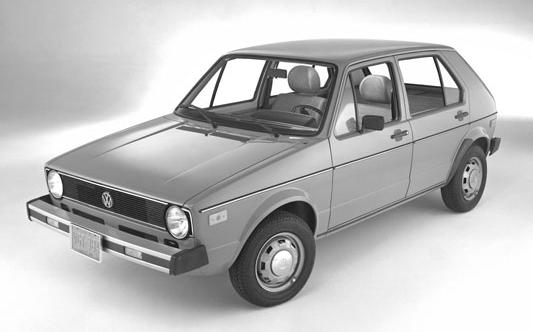 ENERGIZER BUNNY DEBUTS (1989)
The star of more than 115 television commercials to date, the Energizer Bunny is known for his signature wayfarers, flip-flops, and the bass drum (branded, naturally, with the likeness of an Energizer battery) he carries on his chest. A testament to the power of repetition (both literally and figuratively), he has become synonymous with durability and trustworthiness, as have the products he pitches.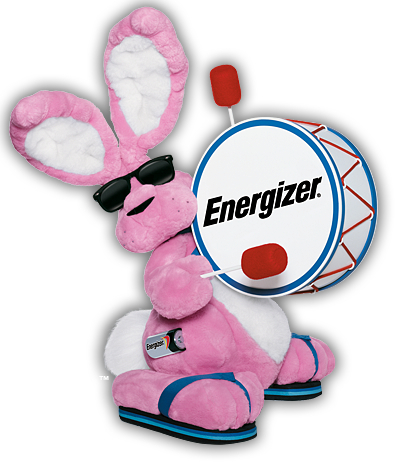 Proxy for something that can continue on indefinitely, the Energizer Bunny is typically cast directly against a product or toy using a competitor's battery, which inevitably expire and fail, or pitted against a villain or foil that grow increasingly exasperated and unable to match his endurance. The following clip, starring Darth Vader, no less, neatly illustrates the approach.
A YOUTUBE STAR IS BORN (2006)
Meet Toto, one of Youtube's earliest viral stars. In this adorable clip, he opens an envelope for his keeper, munching on cue along the edge. To date, it has racked up more than 2.8 million views and spawned dozens of copy cat videos.
BUNNYSLIPPERS.COM OPENS! (2007)
When we launched our humble little enterprise in 2007, we did so with a total of 3 products (Killer Rabbits, Godzilla paw feet, and the Classic Bunnies pictured below) and a simple mission to deliver quality products, superior customer service, and low prices. In the years since, we've added more than 100 styles to our catalog and outgrown two order fulfillment stations in the process; the commitment to quality, however, remains the same!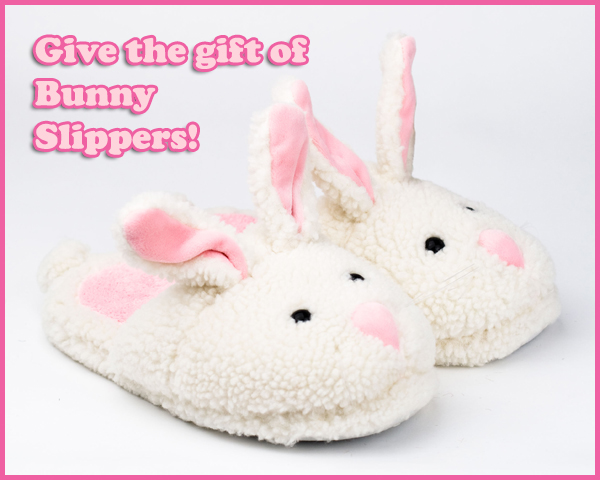 We have so many more slippers now, check our our kids dinosaur slippers
Like our slippers? Follow us on Facebook!
Questions? Complaints? Tips? Contact us: travis [at] bunnyslippers.com