We've been haunted! Help us find the ghosts hiding on our website, and win great prizes in the BunnySlippers.com Ghost Hunt.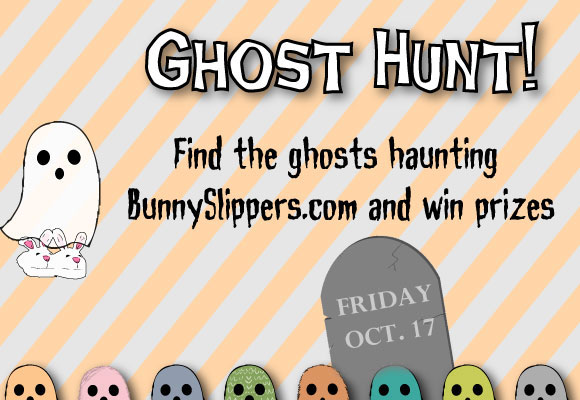 This Friday, October 17, at 1 pm PDT, ghosts will be hidden on our site. You might find one in a blog post, on a product page, or perhaps a menu page. If you do find a ghost, email us with its location and description; the first person to email us with the correct location and description of the ghost will win a prize. The ghosts will disappear as they are found, so hunt quickly! All ghosts will be taken down on Tuesday, October 21.

Prizes include a $50 gift certificate, a $25 gift certificate, and 6 pairs of slippers: there will be 8 ghosts hidden for a total of 8 winners! Winners will be announced on Wednesday, October 22.

One prize per winner. Participants must email sales @ bunnyslippers.com with the correct description and location of a hidden ghost to win. No purchase necessary, void where prohibited by law. Open to residents of the United States ages 18 and over.

Happy hunting, and Happy Halloween!