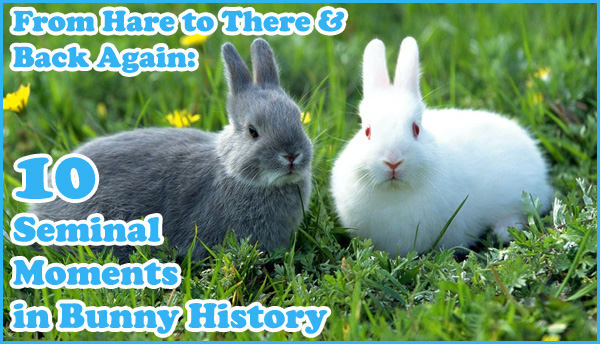 The humble rabbit has long fascinated, charmed, and entertained their human handlers, both here in Western culture and in cultures around the globe. Noted as a symbol of fertility, rebirth, Spring, good luck, and as an example of the wily, trickster archetype, the bunny's playful innocence (and breeding prowess) has been feted (and occasionally, denounced) in literature, film, art, fashion, pop culture, and commerce.
Below, we've compiled a list — along with an interactive timeline — of what we think are the 10 11 most important such moments in bunny history.
Please note that all pictures belong to their respective copyright owners…
FIRST RECORDED REFERENCE TO THE EASTER BUNNY (1682)
Much like the folklore that surrounds Santa Claus, the exact origins of the Easter Bunny remain somewhat murky. But this much we know: on the night before the holiday that bears his name, he delivers baskets filled with colored eggs, candy and toys to the homes of deserving children.
The tradition is thought to have its origins in southwestern Germany during the 17th century, where the youth eagerly awaited the annual visit of the "Oster Hawse," as he was then called. To prepare for the occasion, they would construct brightly colored nests to receive their gifts. The holiday was later imported to the United States by way of German settlers who arrived in the Pennsylvania Dutch country during the 18th century. In modern times, the nest has been repurposed for egg hunts.
ALICE IN WONDERLAND PRINTED (1865)
Penned by Charles Lutwidge Dodgson (1832-1898) (under the pseudonym Lewis Carroll) as a parable for children about the shifting nature of reality, Alice's Adventures in Wonderland (as the book is formally titled) shares the story of Alice, a young girl who tumbles down a rabbit hole into a strange fantasy world (the aforementioned Wonderland) populated by unusual creatures, including rabbits, with anthropomorphic properties.
Attesting to its lasting influence, the book has been translated into 125 languages and has never gone out of print. It has also been routinely adapted for other media, most notably theatre, television and film, the latter of which includes a 2010 production by noted auteur Tim Burton that saw Alice make her initial foray into 3-D.
PETER RABBIT INTRODUCED (1902)
Developed by the English author, illustrator, and conservationist Beatrix Potter (1866-1943) to lighten the spirits of a sick child, Peter Rabbit first appeared in 1902's The Tale of Peter Rabbit, in which he is depicted, via both text and image, as a mischievous bunny with an appetite for vegetables purloined from the neighbor's garden patch. Based on the title's early success and critical reception, Potter would later feature Peter in five subsequent books, all of which would be used to spin-off related merchandise such as dolls, toys, clothing, homewares, and stuffed animals.
With more than 151 million books sold to date, the franchise remains one of the most popular and enduring in children's literature history. On a related note, Nickelodeon is said to be readying a new animated series for 2012.