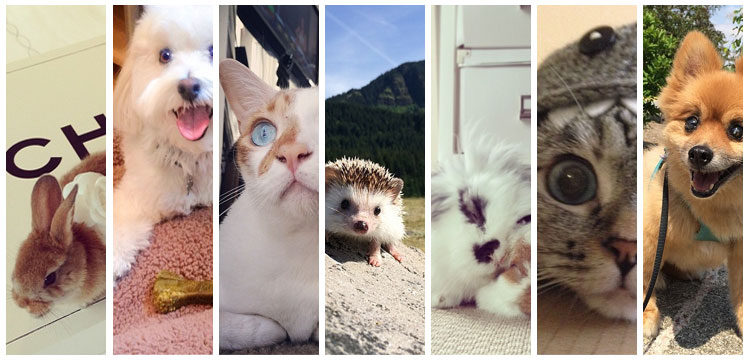 Selfies and pictures of food on Instagram are so overdone nowadays. The new trend taking over the popular social media network is decidedly fluffier: pets! But it's not just the occasional picture of Fluffy or Fido: photogenic pets everywhere are signing up for their own accounts (with some help from their friends with thumbs, of course) and posing for adorable pictures on a regular basis. Some of these four (and three!)-legged friends are even becoming Insta-famous!

We've compiled a list of some of our favorite animals to follow on Instagram. Check them out!
Cecil Delevingne (@cecildelevingne)

http://instagram.com/p/oDtmrWA_Ms

Instagram: @cecildelevingne

The adorable bunny belonging to popular fashion model Cara Delevingne, stylish little Cecil currently has over 97,000 followers. That's quite a large following for such a tiny bunny!
Balki (@balkibones)

http://instagram.com/p/og7iLvK4Px

Instagram: @balkibones

Balki never stops smiling. Seriously. His sweet, fluffy face and happy attitude are sure to brighten your day. Nothing's gonna break his stride!
Richard Kitty (@richard_kitty)

http://instagram.com/p/nt2GLgJcZL

Instagram: @richard_kitty

Richard is undeniably gorgeous! Rescued from the Downey Animal Care Center at age 2, this sweet heterochromatic (odd-eyed) cat and his tabby brother Toshi advocate for animal adoption when they're not busy modeling.
Biddy (@biddythehedgehog)

http://instagram.com/p/oQ3kHjw1cj

Instagram: @biddythehedgehog

Three-year-old African pygmy hedgehog Biddy documents his adventures around his home state of Oregon on his account. Prickly never looked so cute.
Eddy, Marbles, and Olive (@bunnymama)

http://instagram.com/p/o47Bx3zD9d
Instagram: @bunnymama

These three Canadian housebuns are strong advocates for adopting from shelters and proper rabbit care. Bonded pair Eddy and Marbles (and friend Olive, too) share sweet pictures of their everyday life, but they won't ever forget their dearly departed friend Rambo.
Nala (@nala_cat)

http://instagram.com/p/okbzbhLCz8

Instagram: @nala_cat

Adopted as a kitten from an animal shelter, Nala does her best to give back to her fellow shelter cats. Her big beautiful eyes, her penchant for shark hats and #bowtietuesday make her a must-follow!
Jack (@blinddogjack)

http://instagram.com/p/ol-YTilpeR

Instagram: @blinddogjack

Jack isn't just cute beyond words, he has an incredible story to tell. A former puppy mill dog, Jack-Jack is blind, and successfully beat cancer. Now he educates people about special needs animals, puppy mills, and canine cancer—all with a big, sweet smile on his face.