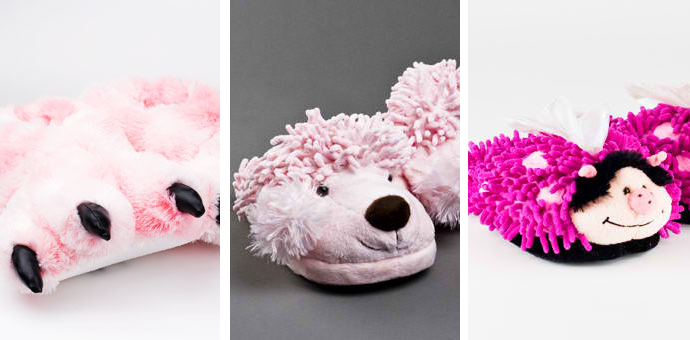 Rounding up this week with a fresh dose of pink, we decided to dedicate a few lines to all the little girls out there with a few of our favorite girly shoes. Whether you like poodles, dolphins or even tigers, this week's Slippers Guide's got you covered.
Pink Tiger Paw Slippers
The world will hear you roar in these! A pair of pink tiger paw slippers will allow you to show off both your feisty and girly side, sending everyone an appropriate message. Not to mention your tootsies will be amazingly cushy.
Purple Butterfly Slippers
Going for the more feminine vibe, these purple butterfly slippers are every girl's favorite. The fuzzy cover also brings extra warmth for your feet, making them perfect for the cold weather we've been recently facing.
Pink Dolphin Slippers
Possibly the world's most majestic creatures, dolphins are a man's best friend out in the open sea. Stories of gracious dolphins can make your heart warm, and these slippers will do the same to your feet.
Pink Poodle Slippers
Girls love poodles, so why not wrap it up with our pair of pink poodle slippers? If getting an actual poodle for your little girl still sounds like a risky endeavor, there's no excuse for not getting her a pair of these comfy slippers.
Drop by next week for more awesome slippers or check out our full collection at BunnySlippers.com.