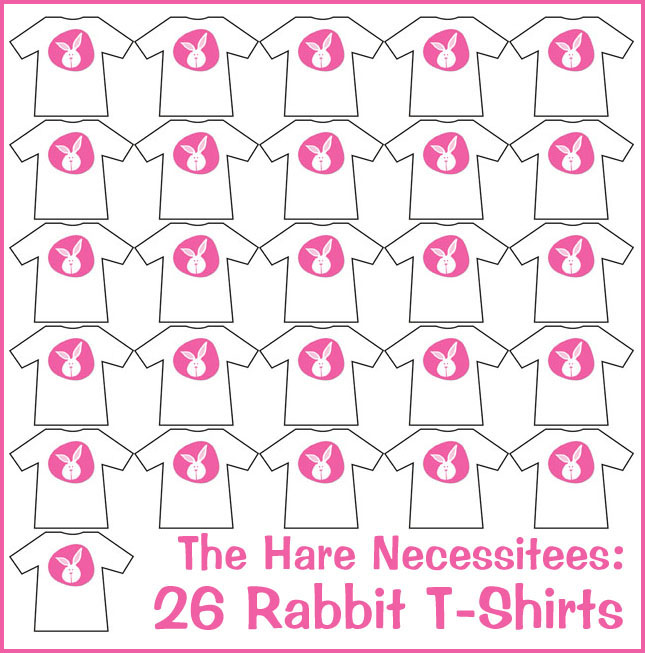 It's officially spring time! Daffodils are popping up on every street corner, birds can be heard chirping outside each window, and the Easter Bunny's annual appearance draws closer (April 8th, yo), all of which reminds us that it's once again t-shirt weather (fiiiiiiinally). As such, we've decided to revisit the compilation of rabbit-themed shirts that we pieced together in this space last year…
New for this refresh are 15 16 designs, which brings our total to a whopping hopping 26. Collected from Internet points near and far, they include everything from the predictably d'aww inducing (read: cute) to the strange, curious and even slightly macabre. Revel therefore in your right to bare arms…
Note that the shirts are listed in no particular order; click on the images to link through.
1. Here's a pun on a classic Disney character we dug up over at Shirtoid.
2. Robert the Listening Rabbit at Tee Gallery has ears as big as his heart.
3. If you've bumped your head and need a rabbit reminder, the folks at Rabbit and Eye have you covered – literally and figuratively.
4. Can you name the artistic reference for this logic-defying design by Graphic Airlines for Threadless? (Hint.) The answer is in the image caption.
5. iOTA iLLUSTRATION has hopped on the hip animal bandwagon.
6. If kangaroos inspired the fanny pack, should they be put on trial for their crimes against fashion? Inquiring minds want to know… (via Shirtoid)
8. Wildfox Couture makes geek look chic.
9. NYHop boasts 'Rabbit themed clothing for humans' and they certainly deliver. Here's a cross-species mashup with style and panache.
10. Long-earred superstar of the fashion blogosphere Fifi Lapin released these adorable tees earlier in 2012. They're currently out of print at her shop, but she's sure to have more adorable, 100% cotton-tailed designs up her sleeve in 2012.
11. Here's another design from Shirtoid with enough movie nerd appeal even for our friends at Found Item Clothing.
12. Hearkening back to our rabbit-related songs list, Music to My Hares, here's a vintage tee from Free People featuring one of our favorite bunny rock bands.
13. If the Killer Rabbit of Montey Python and the Holy Grail fame taught us anything, it was not to trust in cute rabbits. This clever Threadless tee spreads such awareness with a experimental ink treatment that is executed with flair…
14. LOLMart has taken the Bunway Air meme and made it wearable.
15. This ladies tee at Think Geek sends an important message: just because I'm cute, don't assume I'm not dangerous!
16. Regiments of rabbits, armed with rifles.
While you're here, go ahead and look back at our original assemblage. Be sure to leave us a comment if we've missed any of your favorite bunny tees.
10 Rabbit T-Shirts Original Post from July 2011:
Does the transitive property apply to cute t-shirts? If rabbit t-shirts = cute and you = wearing a rabbit t-shirt, does you = cute? We think so! In this post, we invite you to challenge our theory, supported as it is by the 10 following case studies…
1. It's bigger than hip-hop, hop, hop… but it comes in sizes up to XXXL, too.
Update: no longer available for purchase (sadly).
2. Mess with the bull and you get the horns. Mess with the bunny siamese jackalope and…
3. Yee-haw! Ride 'em, bunnyboy!
4. The jury is still out on which is more killer: the evil rabbit on the t-shirt, or that mustache.
On a related note:
5. Beer and bunny lovers alike can find common ground with this adorable, pun-laden t-shirt that reimagines our furry friend as a microbrewer.
6. Hares — the original hipsters.
7. We picked this rabbit/Dr. Strangelove mash-up, entitled "How I Learned to Stop Worrying and Love the Carrot," especially for the film fanatics at Found Item Clothing.
Watch the likely inspiration for said design:
8. Not all bunnies are cute and cuddly. Some of them are thumbs-upping, voodoo rabbits with popsicle sticks for ears and bad luck buck teeth.
9. It's a tough life being a chocolate bunny. You're only cute for about 10 seconds until someone chomps you to delicious, chocolaty bits. Our hearts, and mouth buds, go out to the little guys.
10. Here's a creative change of perspective. One artist muses what bunny rabbits might put on a shirt if given the opportunity. Trix cereal, magic wands, and carrots we get. But does anyone know why there's a calculator here?
Postscript: shirts #2, 3, and 4 were discovered at Rumplo, an online archive of artisan tees, currently 18,000+ in number. Likewise, shirts #5 and 6 were sourced via Shirtoid, itself a growing gallery of designs organized around a broader, pop culture skein.
Got a design that you'd like us to consider for a future post? Link us in the comments field below!
Like our slippers? Follow us on Facebook!
Questions? Complaints? Tips? Contact us: sarah [at] venderagroup.com