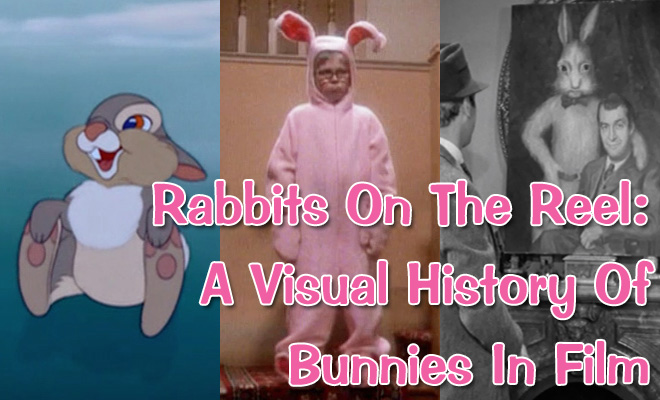 In honor of our favorite holiday, Easter, we've cobbled together a supercut of our favorite movie bunnies and embedded it below.
The edit includes classic selections from Bambi, Harvey, and Who Framed Roger Rabbit?, but is leavened with a selection of lesser-known, and carefully vetted, dark horse entries, showing the versatility of our rabbits friends; they're more than just inspiration for our cute slippers.
Congrats to Kai Peter, the winner of our contest! He correctly identified all of the movies in sequence and they are now listed below the jump!


:00-:06, Night Of The Lepus (audio-only)
:07-:20, Who Framed Roger Rabbit?
:21-:27, The Muppet Christmas Carol
:28-:36, Bambi
:37-:43, Real Genius
:44-:51, A Christmas Story
:52-:54, Con Air
:55-:58, Fantasia 2000
:59-1:06, Lost In Space
1:08-1:10, Space Jam
1:11-1:14, The Nightmare Before Christmas
1:15-1:19, Gremlins
1:20-1:22, Who Framed Roger Rabbit?
1:23-1:27, The Matrix
1:28-1:33, Alice In Wonderland (2010)
1:34-1:42, Amélie
1:43-1:46, Barbarella
1:47-1:50, Night Of The Lepus
1:51-1:56, Pulp Fiction
1:57-2:04, Wallace & Gromit In The Curse Of The Were-Rabbits
2:05-2:10, Monty Python And The Holy Grail
2:11-2:17, Harry Potter And The Half-Blood Prince
2:18-2:29, Who Framed Roger Rabbit?
2:30-2:36, Harvey
2:37-2:47, Watership Down
2:48-3:00, Monty Python And The Holy Grail
3:01-3:04, The Big Lebowski
3:05-3:11, Fatal Attraction
3:12-3:16, Romancing The Stone
3:17-3:26, 9 To 5
3:27-3:52, Easter Parade
3:53-4:05, Harvey (audio-only)
Don't see your fave? Got another movie to share? Chime in below!
I think you'll love our german shepherd slippers,  panda bear slippers, or bear claw slippers for adults
Conceived, researched, and curated by Travis Greenwood; edited and sequenced with the estimably talented Brett Roberts.