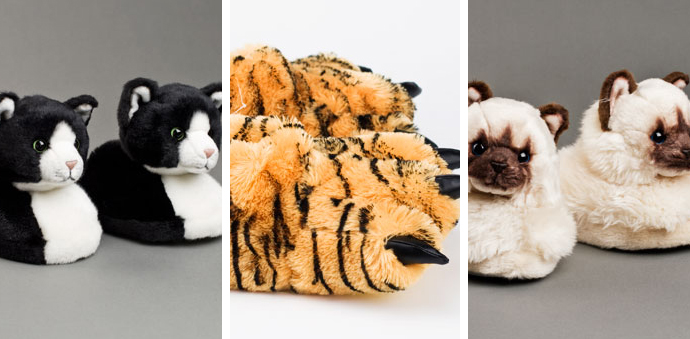 If you consider yourself a cat person, you might want to stick around for a bit, as we're about to bring you our selection of the coolest slippers for cat lovers on the web. It's time for yet another edition of our weekly slippers guide, so buckle up!
Black & White Kitty Slippers
 Kicking it off with a dose of classic kitty charm, a pair of black & white cat slippers is bound to bring a smile to cat folks everywhere. A perfect holiday gift, these slippers might be just the thing for your cat-loving friend or family member.
Get Black & White Kitty Slippers
White Tiger Slippers
Taking a turn to wild kitty cats, these white tiger slippers are just the thing you need for cold winter days, as they will keep your tootsies warm with a one-inch thick layer of high density foam.
Himalayan Cat Slippers
As one of the more popular cat breeds, himalayan kitties have found their way to hearts of cat aficionados around the globe. So if you happen to know one such person, we've got the perfect gift – a pair of signature himalayan cat slippers.
Sylvester the Cat Slippers
Switching to cartoon domain, Sylvester the Cat slippers will turn your favorite cartoon kitty into a personal feet warmer. Perfect for both the young ones and those who still feel young at heart, the slippers are a fitting tribute to one of the most famous animated cats of all time.
Get Sylvester the Cat Slippers
Tom & Jerry Slippers
While we're in cartoon land, we might as well pay a visit to your favorite cat and mouse duo – the legendary Tom & Jerry. Although this is technically only half-a-pair of cat slippers, it's still a definite guarantee for an awesome gift. Little ones will love it.
Tiger Paw Slippers
Rounding it up on the wild side, tiger paw slippers will help you wake your inner beast, turning your tootsies into a genuine pair of tiger paws. The world will hear you roar!
That about wraps it up, make sure to tune in next week for another guide of the coolest slippers on web. If you're up for some more kitty stuff, make sure to check out our full collection of cat slippers.