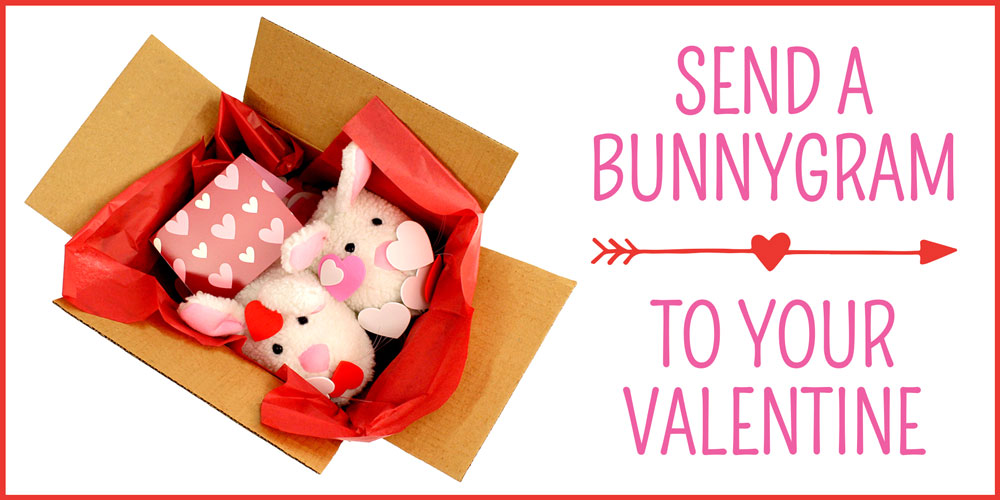 BunnyGram – say hi to our best Valentine's Day gift ever!
New for 2016 BunnySlippers.com is excited to offer a sneak peek at our best Valentine's Day gift idea ever – the BunnyGram! Featuring a pair of our world-famous Bunny Slippers, each BunnyGram is carefully packed by our own hands. This romantic yet practical gift is shrouded in wrapping tissue and sprinkled with foam hearts. There's even an included Valentine-themed note card to personalize your BunnyGram for that special someone. Instead of the cliched and tired roses or chocolates, truly delight that one person who has captured your desire with a BunnyGram… and reap the benefits. It's sure to make your Valentine's holiday shopping much easier.
Fine print: BunnySlipper.com is not responsible for any consequences received from giving the BunnyGram. These include but are not limited to:
romantic urges and the inability to control them
lost wages from calling in sick to work February 15th
hospital bills for rapid heart beat
a new addition to the family in 9 months
excessive spending on engagement ring
Valentine's Day is coming up fast. We'll have more information on the BunnyGram, as well as a discount coupon, coming in the next few days.