Easter! There's no holiday that better combines our interests here at From Hop To Pop. Eggs are our preferred method of protein intake second only to bacon (sorry, vegans). We're bunny crazy, love cute and cuddly animals, pastel colors – all of it. Who better, then, than the resident experts (us) to sort the sweet from the riff-raff this Easter holiday? Nobody, that's who! Let us expose you to the best of the best, the cutest of the cutest, and the WTF-est of the WTF-est of online Easter coverage. I'm gonna hop right to it!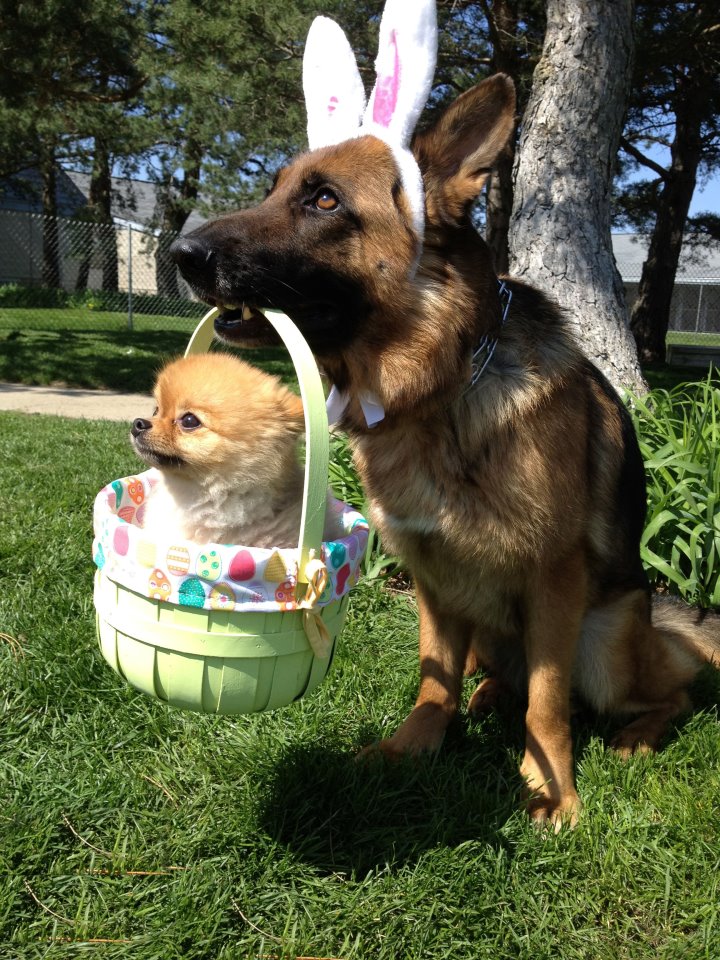 (Found this Easter egg on Reddit.)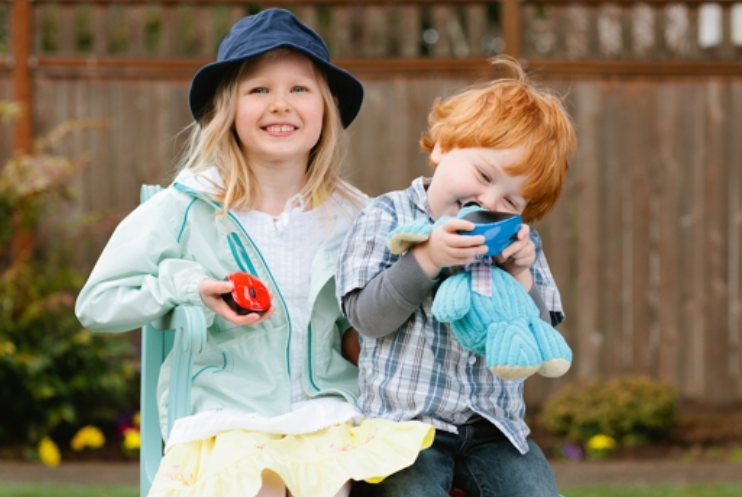 Microsoft Windows used Easter as an opportunity to dress up a bunch of cute kids and photograph them holding Easter baskets full of wireless mice. The admittedly really cute results (and I'm a Mac person!) are posted on their Tumblr, Beautiful PCs.
So you know where Peeps come from, and you've gone out and stocked up. But now it's the day after Easter and you can't even look at the beady-eyed little purple guys without feeling a little ill. So what do you do? Put those excess Peeps to good use as a lovely Peep Centerpiece, a DIY project from the folks at The Celebration Shoppe.
Awkward Family Photos strikes again with their Happy Easter Slideshow! I can't stop laughing. Which one is your favorite? Let's hope you don't recognize any of them…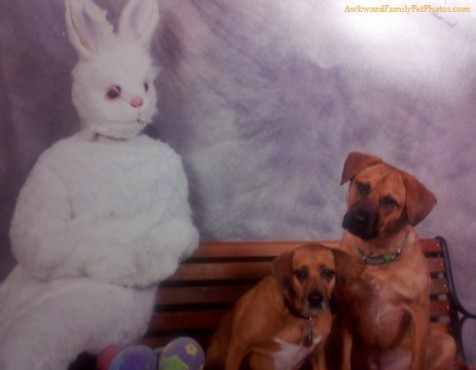 In this e-card by JibJab, bunnies get their revenge on the consumer of a chocolate bunny. It's the perfect thing to send as a belated Easter greeting, "Hey, man. Sorry I missed hanging out with you on Easter. By the way, I wouldn't eat any of those chocolate bunnies you got. Beware the rabbits!"
If you simply can't get enough of weirdo Easter Bunnies, might I suggest the Fail Blog off-shoot Sketchy Bunnies. I LOL'D IRL at this gem: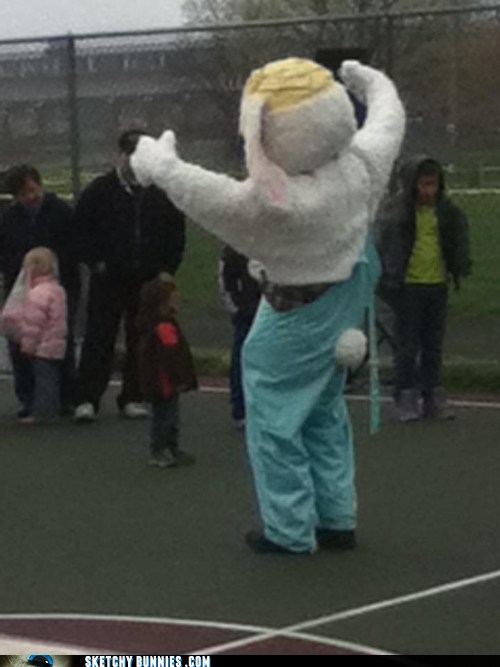 WeHeartIt has a great collection of vintage Easter images. They're perfect for dressing your Tumblr up to look even cooler and more authentic than all of your friend's Tumblrs. They're also just fun to look at.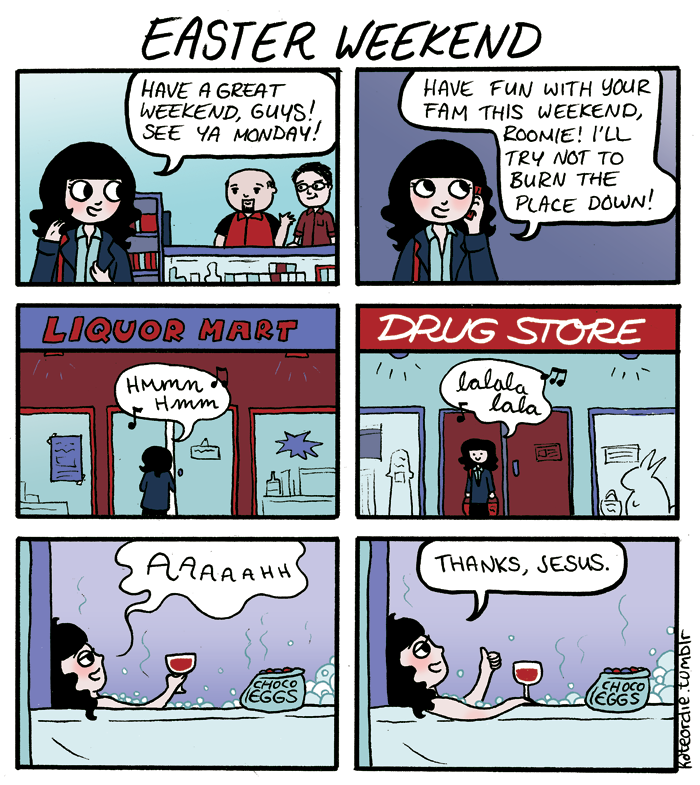 Message in a bottle? So unseasonable. Put your sentiments in a hollowed-out, decorated egg instead. Indie Ogden Utah shows you how with their "Easter Egg Love Notes" DIY.
Maybe you have kids, and maybe they're getting a little older. When regular ol' daytime Easter egg hunts are just not cuttin' it anymore, Mommy Savers suggest throwing a couple of glow sticks into those plastic eggs and moving the whole shebang to the Nighttime. Glow in the dark Easter egg hunt – fun for all ages.
We're going to get hyper local for just a second and rep a Portland (Oregon, not Maine) publication, the Willamette Week. The folks at the Willy Week ran this article recently about Harvey the Rabbit – pictured below – in Washington County. The title? "Harelujah!" If you're reading this, WW writers, contact us. We may have a pun writing position open for you.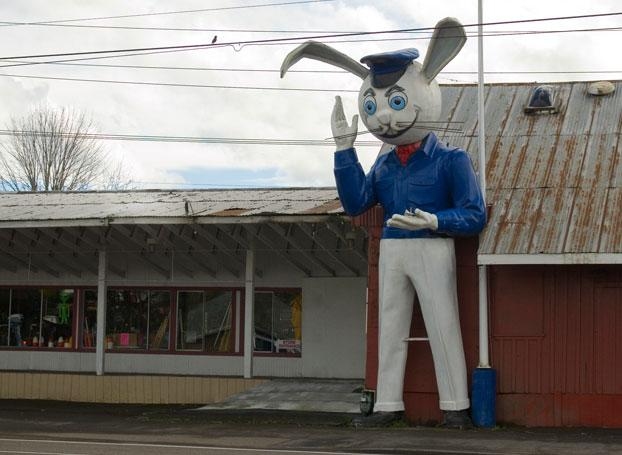 The Huffington Post created a slideshow of impressive Easter egg art. Pop culture references abound – South Park, Aqua Teen Hunger Force, Pokemon, oh my!
And while we're on the topic of egg-ified pop culture references, here's a collection of Star Wars eggs. The force is strong with these little ones.
That's all we got, folks! If we missed any online Easter awesome-ness, be sure to shoot us a line so we can remedy our mistake.
Like our slippers? Follow us on Facebook!
Questions? Complaints? Tips? Contact us: sarah [at] venderagroup.com