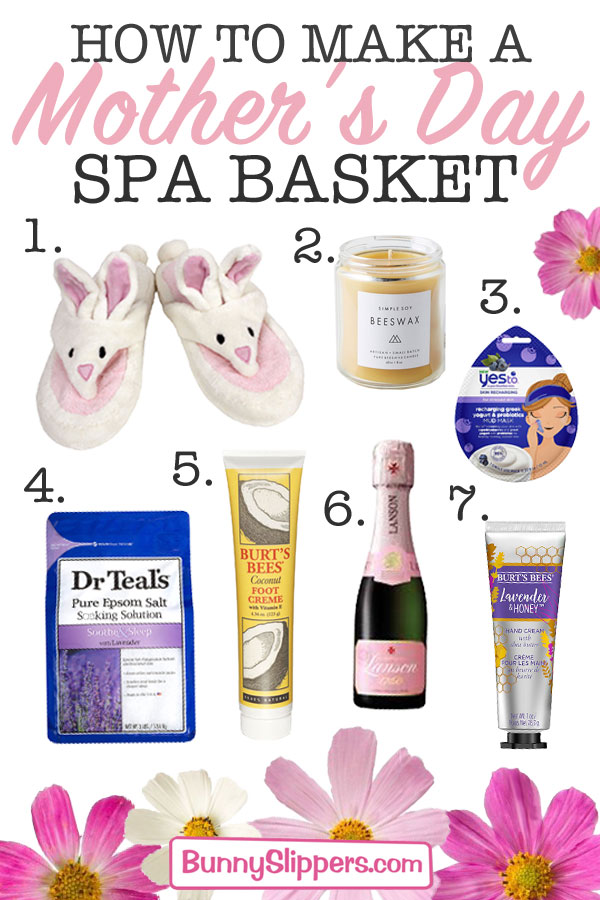 Looking for a way to treat your Mama right this Mother's Day?  You can make a fun and easy spa basket that she'll love!  Start with a basket from your local craft thrift store, and fill with goodies she can use to make her own home spa experience.  Most of these picks are available at your local grocery or drug store!
Bunny Spa Sandals: Luxurious footwear is essential!  Nothing starts the home spa off right like some spa-style slippers.  Of course, our Bunny Spa Sandals are our favorite!
Beeswax Candle: It's a universally known fact–Moms love candles!  We like to go with a clean and natural scent, like this simple Beeswax Candle.
Facial Mask: There are so many fun masks on the market these days…choose a scent your Mom will love.  This Superblueberries Mud Mask is a delicious-sounding option!
Soaking Salt:  Turn an ordinary bath into an extraordinary home spa with some therapeutic soaking salt.  Dr. Teal's comes in lots of scents…we think the lavender is extra relaxing!
Foot Cream: Those tootsies work hard all day!  Treat them to some specialized foot lotion, like the Burt's Bees Coconut Foot Creme.
A Mini Bottle of Bubbly: These mini champagne bottles are so darn cute, and a perfect size for one (no sharing required).  Cheers!
Hand Cream: Finish the spa experience off right with some luxurious hand cream.  We love the scent of this Lavender & Honey Hand Cream.
Happy Mother's Day to all the mamas, grand-mamas, step-mamas, and foster mamas out there!