Awards season is upon us…and this year we created our very own awards, The Bunnies!  The Bunny Awards celebrate the animal slippers that entertain us the most, as seen in movies and on television.  You might even spot some of your favorite celebrities!  And now….without further ado… (drum roll please)…. we present to you The First Annual Bunny Awards!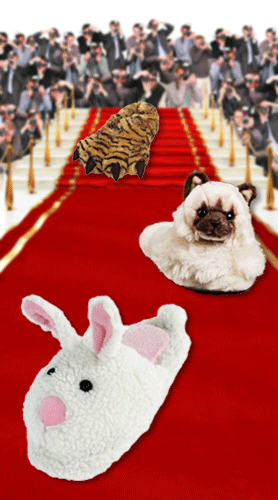 The slippers are walking the red carpet…hoping to win a prestigious Bunny Award…!  We've got all kinds of interesting categories…who will take home each prize?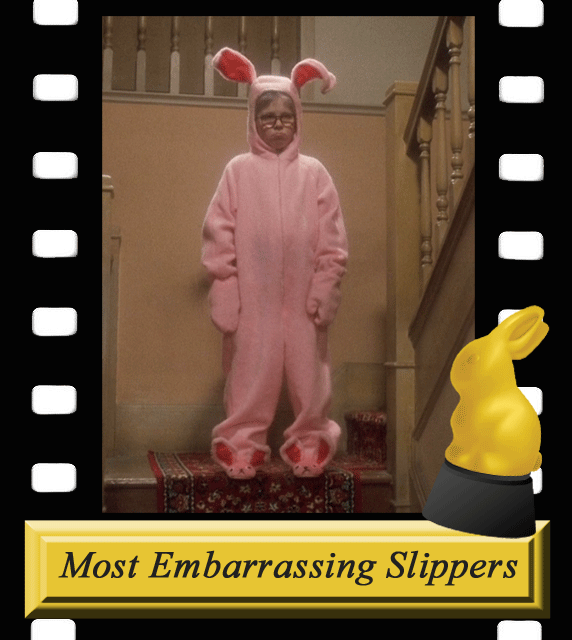 For our first category of the evening, the Bunny Award for Most Embarrassing Slippers goes to…. A Christmas Story!
All Ralphie wants for Christmas is a Red Ryder Carbine Action 200-shot Range Model air rifle.  But instead, he gets this pink bunny suit with attached pink bunny slippers.  Who could forget their very embarrassing performance on the silver screen!?  (But at least he didn't shoot an eye out).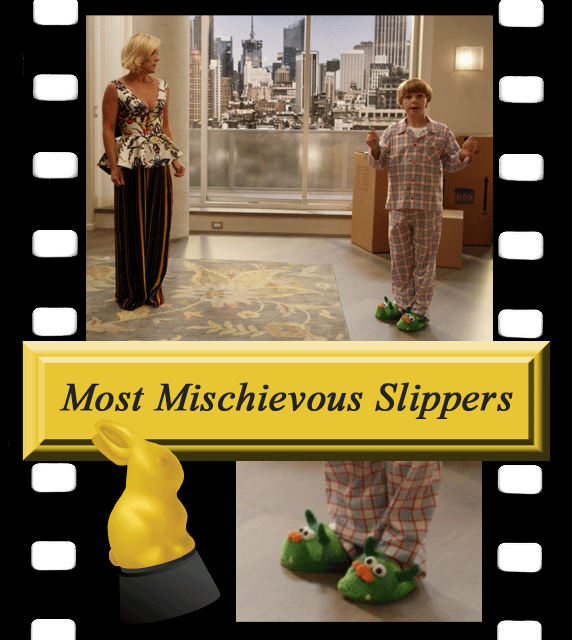 And the Bunny Award for Most Mischievous Slippers goes to….The Unbreakable Kimmy Schmidt! 
These Kids' Green Monster Slippers were spotted on Buckley, Jacqueline's badly-behaved and hyperactive son.  He drives Jacqueline and Kimmy crazy with his antics… and these monster slippers suit his mischievous character to a T!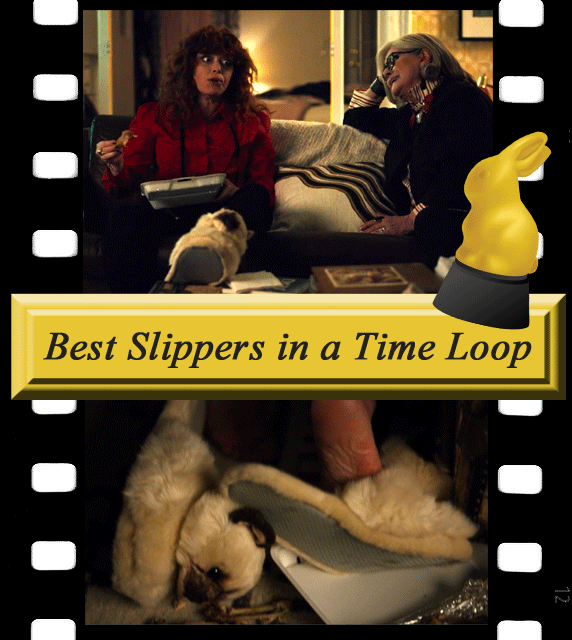 And the Bunny Award for Best Slippers in a Time Loop goes to…. Russian Doll! 
We spotted our Himalayan Cat Slippers on Natasha Lyonne, in her mind-bending new Netflix series. She wears these slippers right before she [[SPOILER ALERT]] dies!  Well, as long as you're stuck in a mysterious time loop, you might as well be comfy!  (They also look a little like Oatmeal…her runaway cat).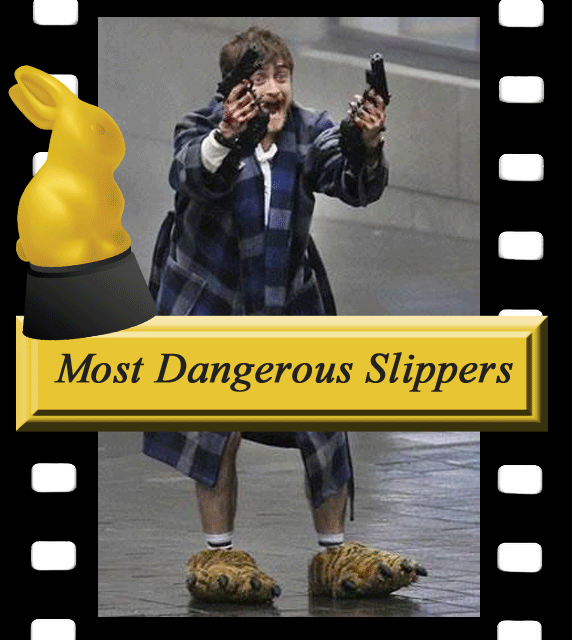 And the Bunny Award for Most Dangerous Slippers goes to…Guns Akimbo!
Full disclosure: this action comedy film isn't out yet, but it will star Daniel Radcliffe as Miles, who unwittingly gets caught in a televised death match.  Sounds pretty wild!!  We can't wait to see our Tiger Paw Slippers on the big screen later this year!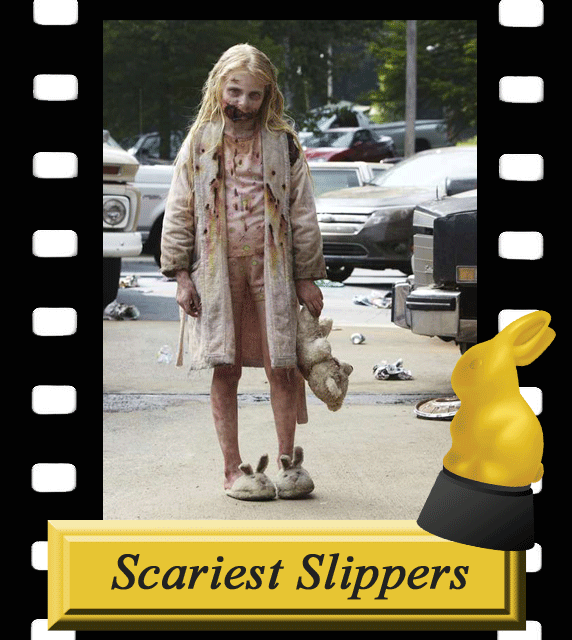 And the Bunny Award for Scariest Slippers goes to…The Walking Dead!
Wow, our adorable Bunny Slippers have never looked so terrifying!  Spotted on this little zombie girl in the first season, they're roughed up and zombie-fied and hungry for brains…yikes!  These are definitely the scariest slippers we've ever seen!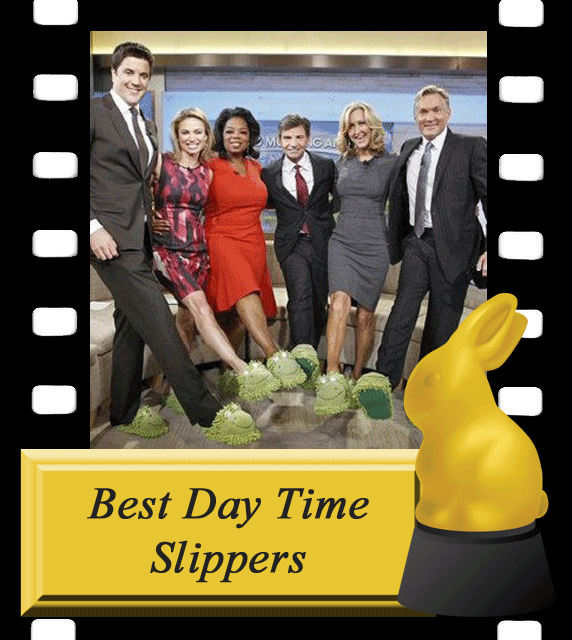 And the Day Time Bunny Award goes to…. Good Morning America!
The cast of GMA, plus Oprah, were spotted wearing some Fuzzy Frog Slippers, during a segment supporting Robin Roberts' recovery from surgery.  (The Fuzzy Frogs are reportedly Roberts' favorite slippers!)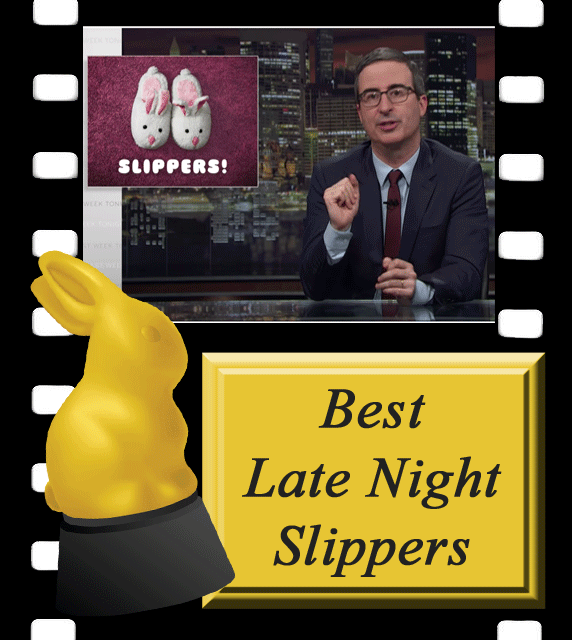 And the Late Night Bunny Award goes to…. Last Week Tonight with John Oliver! 
We spotted a pair of our Classic Bunny Slippers on Last Week Tonight, during an off-the-wall detour from his satirical spin on the news!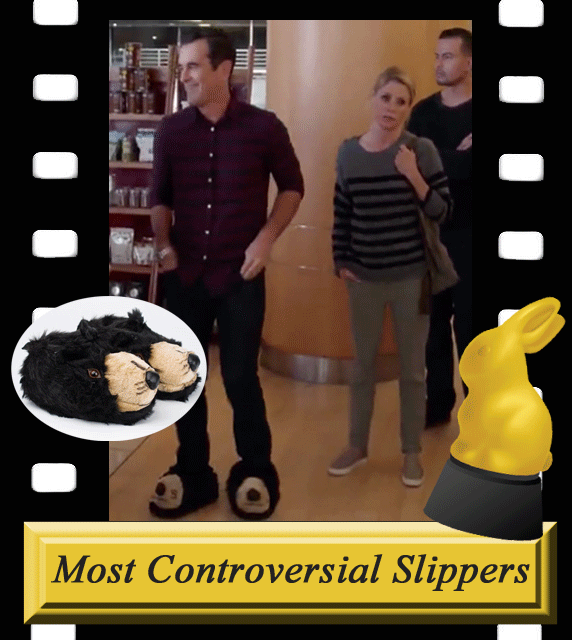 And the Bunny Award for Most Controversial Slippers goes to…Modern Family!
Phil loves them, Claire hates them, and Stella the dog falls in love with them…these Black Bear Head Slippers caused quite a stir on this wacky family comedy!  (Spoiler alert:  hijinks ensue when Claire tries to make them "disappear"!)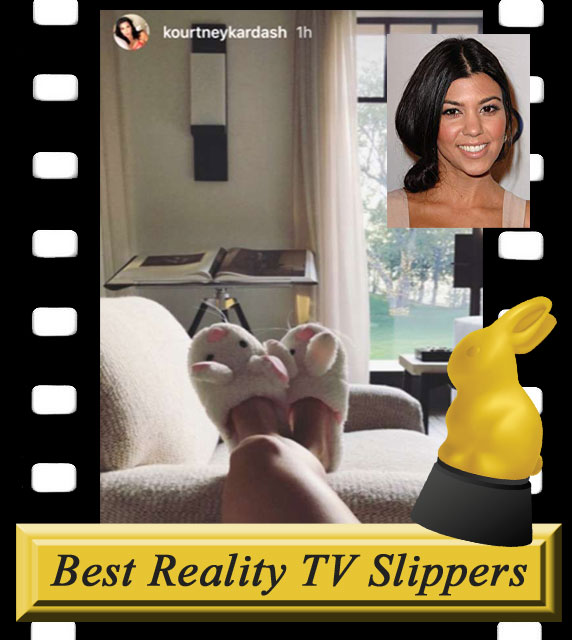 And the award for Best Reality TV Slippers goes to… Keeping Up with the Kardashians!
We spotted a pair of our Classic Bunny Slippers on Kourtney Kardashian!  No matter what you think of the famous family, you must admit they have excellent taste in slippers…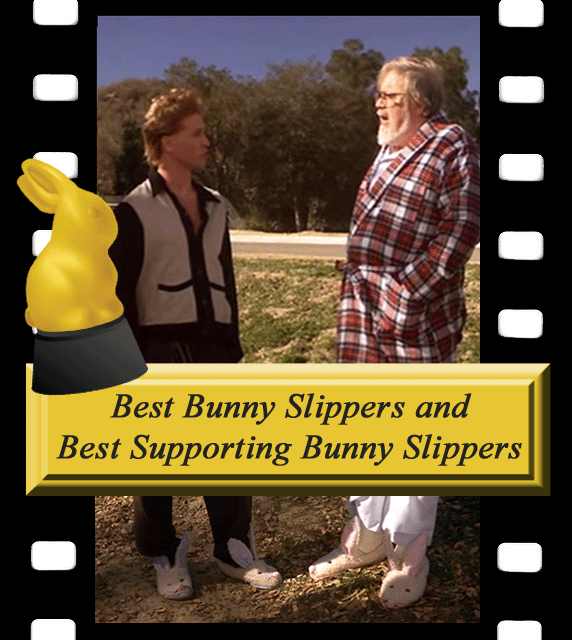 And the Bunny Award for Best Bunny Slippers and Best Supporting Bunny Slippers goes to…Real Genius!
In this cult classic film, Val Kilmer was spotted wearing Bunny Slippers while playing the teenage genius Chris Knight!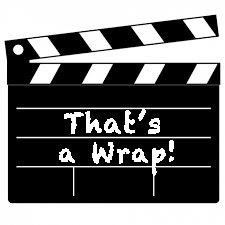 Well, that concludes our First Annual Bunny Awards!  We hope you enjoyed watching these slippers on the small screen and the silver screen as much as we did.  Have you spotted some animal slippers in your favorite shows and films?  Let us know!  They might be a contender for next year's Awards!