Home >
FAQ's >
Bunny Slippers.com FAQs
Satisfaction Guaranteed
---
Your complete satisfaction is guaranteed. We only offer the highest quality products available. Any defective or otherwise unsatisfactory merchandise can be returned for a full refund or replacement (excluding shipping costs). We love wearing our slippers and you should too. If you are dissatisfied with your purchase, please
tell us
.
Exchanges
---
For Returns and Exchanges please click here:
Returns & Exchanges
There is no additional charge for exchanges. Just fill out the simple Returns & Exchanges form and we'll provide you with return instructions. It only takes a minute and helps us provide you with excellent service.
The mailing address for returns and exchanges is:
BunnySlippers.com
4110 SE Hawthorne Blvd., #280
Portland, OR 97232
USA
Please note
:
slippers must be clean, unwashed and otherwise in the same condition as when received. All returns and exchanges must be initiated within 30 days of receipt of your order.
Refunds will issued to the card on which the order was placed. Also note that returns will be refunded the full amount less shipping charges. Likewise, all returns involving 4 or more pairs of slippers (or pieces including socks and hooded towels) will incur a 15% restocking fee.
Sizing
---
Every foot (and slipper) is shaped a bit differently, but embedded below are three charts that will help you select the proper fit. The first is for women, the second, men; the last converts between them.
Please note that these are provided for general reference and do not guarantee that your slippers will fit perfectly.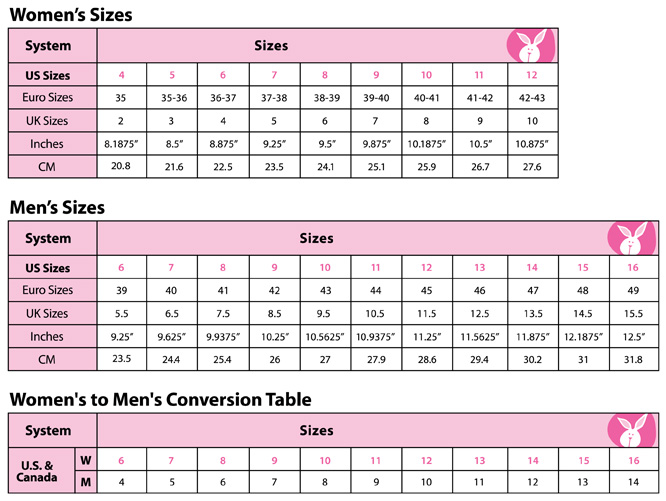 Payments
---
Our transactions are currently processed through PayPal.
You do not need a PayPal account to make a payment
, and you can pay with all major credit cards or an electronic check.
Why does the paypal account say "Found Item Clothing, Inc.?" Found Item Clothing is the company that operates BunnySlippers.com. Found Item Clothing has been in online retail for over five years and has served thousands of satisfied customers. We look forward to serving you too!
Having Trouble Ordering?
---
Please make sure that your browser accepts cookies from PayPal and that you are using the latest software version of your web browser. If you have attempted to order and were unsuccessful, it is also recommended that you clear your browser's cache, delete any existing Paypal cookies and then restart your computer.
We update product pages when particular sizes and styles are unavailable, but please note that
out of stock products cannot be added to your cart
.
Domestic (U.S.) Shipping
---
All products are shipped through the USPS or UPS with delivery confirmation. From the time of order, your slippers should arrive in about 5 days.
International Shipping
---
BunnySlippers.com offers international shipping to most countries. We estimate 14-21 days for orders to clear customs and arrive at their final destination.
Shipping costs are autocalculated by our shopping cart, based on weight and destination. Shipping for the first pair is generally $12.99-$14.99. To determine the exact price for shipping your order, you will need to begin the checkout process and enter your location when prompted to do so. You will then have the option to complete the purchase. Note that we are not responsible for any import taxes or duties assessed by foreign Customs or border patrol agencies.
We apologize for the high cost of shipping but the slippers are very bulky and expensive to ship overseas.
Our Privacy Policy
---
When you do business with bunnyslippers.com, your personal information will be kept confidential and secure. We respect your privacy and assure you that we will maintain and use this information only toward fulfilling your orders with us.
Order Information
We will never rent or sell your name, address, email address, or personal information to any third party without your permission
. Bunnyslippers.com does not collect or retain any financial information from its customers.
Emails
We occasionally send email to our customers announcing new products and specials. You can unsubscribe from our list at any time. If you wish to be removed from our mailing list, please [
contact us here
].
Materials, Care, & Cleaning
---
Our
Classic Bunny Slippers
are made of a fluffy acrylic bunny body and a soft polyester terry footbed which features cushioned construction and bunny footprint sole. The pink bunny ear lining is poly flannel.
To clean your Bunnies, you can surface wash them with a mild detergent and warm water. While it's not a recommended cleaning process, we have also put our Bunny Slippers through the washer; they come out much whiter and refreshed, but you may lose some of the details like a whisker or two. Please use this approach at your discretion. Read our full tutorial
here
.
Our Location
---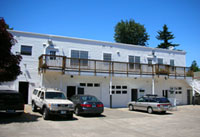 Bunnyslippers.com's home is located in Portland, Oregon. Here's a snapshot of our office on an uncharacteristically sunny spring day.
The mailing address for Bunnyslippers.com is:
Bunnyslippers.com
4110 SE Hawthorne Blvd., Unit 280
Portland, OR 97214
USA
We're sorry, but we are not able to handle customer requests by phone. If you need to contact us, please [
click here to send us an email
]. We promise we'll get back to you quickly!
Didn't Find What You're Looking For?
---
Send us an [
email
] and let us know what kind of slippers you want. We'll do our best to track them down and find a pair for you.
Any other questions?
---
If you have any other questions about our products or anything else please [
contact us here
] and we will get back to you with an answer as soon as possible.