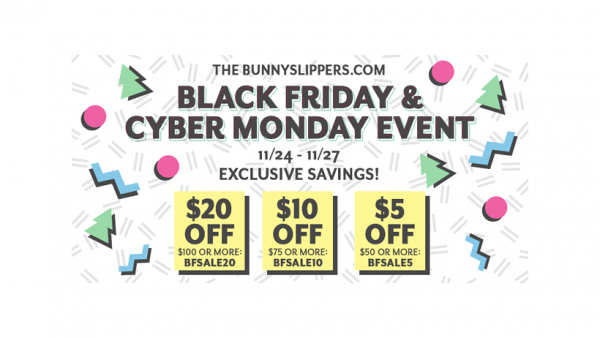 Start hoppin' and get to shoppin'! This Friday through Monday you can get more bang for your holiday buck with BunnySlippers.com's Black Friday and Cyber Monday coupon codes. Please apply them to the coupon field during checkout.
These codes unlock discounts based on what's in your basket. The more you spend, the more you save:
$100+ use BFSALE20 for $20 off
$75+ use BFSALE10 for $10 off
$50+ use BFSALE5 for $5 off
These coupon codes start 11/23 9pm (PT) and evaporate 11/27 11:59pm (PT). Popular items can sell out quickly so act fast. Limited to stock on hand.