If you're looking for a fuzzy gift to give Dad warm and fuzzy feelings this Father's Day, you've come to the right place. We've compiled a guide to help you find the perfect pair of slippers for the dad in your life, and we hope you find it helpful! (Don't forget to check out our Father's Day Sale, too!)
Big Foot Slippers
You can stop looking for Sasquatch: you've found these comfy Big Foot Slippers! Dad will get a kick out of the fun Bigfoot design, and he'll love how comfortable these slippers are.
Husky Slippers
Man's best friend may be his dog, but these Husky Slippers are his feet's best friend. Give dad the gift of friendship with these slippers: he'll appreciate their warmth and companionship!
Cthulhu Slippers
If he likes horror and sci-fi, Dad's going to love our Cthulhu Slippers. These tentacled fuzzy beasts are sure to keep his feet nice and warm, whether he's embarking upon a Lovecraftian adventure or just relaxing at home.
Sports Team Slippers
Does the dad in your life love sports? Our collection of sports team slippers is perfect for him! Find slippers from his favorite baseball, basketball, or football team for a Father's Day gift that's sure to be a slam dunk.
Freudian Slippers
These funny Freudian Slippers are sure to make him laugh. These slippers feature moveable tongues that he can wiggle with his toes for even more smiles. A great choice for the academic dad or psychology aficionado!
Furry Adventure Slippers
Our Furry Adventure Slippers are perfect for hobbits and fantasy fans alike! Let Dad put his feet up in these awesome hobbit feet slippers and enjoy a Lord of the Rings movie marathon for an adventurous Father's Day.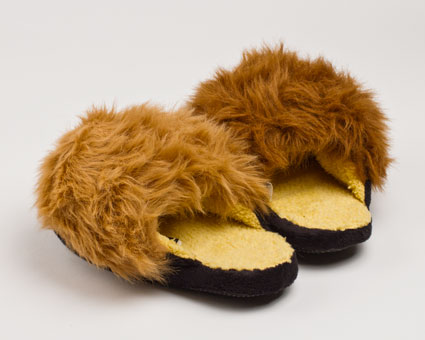 Star Trek Tribble Slippers
Trekkie dads will love these awesome Star Trek Tribble Slippers! Not only are they soft and fuzzy, these slippers also make a purring noise when Dad walks around.