After the Macy's Thanksgiving Day Parade, many families like to sit back and watch the National Dog Show, another beloved American Thanksgiving tradition.
Highlights from this year's show were plentiful: we've compiled some of our favorites. Read on!
Arguably the best moment of the afternoon was during the Best in Show round, when eventual winner Nathan the Bloodhound worked his charm on the judge as he was being examined. Fun fact: in his spare time, Nathan participates in mantrailing, where he tracks the scent of a hidden person.
We were certainly ooh-la-la-ing over Freda the French bulldog after her group win and appearance in the Best in Show round!
We have an escapee! #TheDogShow pic.twitter.com/htTcRi3WeM

— NBC (@nbc) November 27, 2014
This miniature pinscher was done standing around waiting, and decided to take matters into his own paws. His handler didn't seem too happy, but we suppose that's a small price to pay for a brief moment of fame on the Internet.
"The Car Wash Special." #TheDogShow #komondor pic.twitter.com/cD2K4dFzCo

— NBC (@nbc) November 27, 2014
The Komondor wanted to make sure the entire nation got to see its long dreads in action. Bob Marley would have been proud.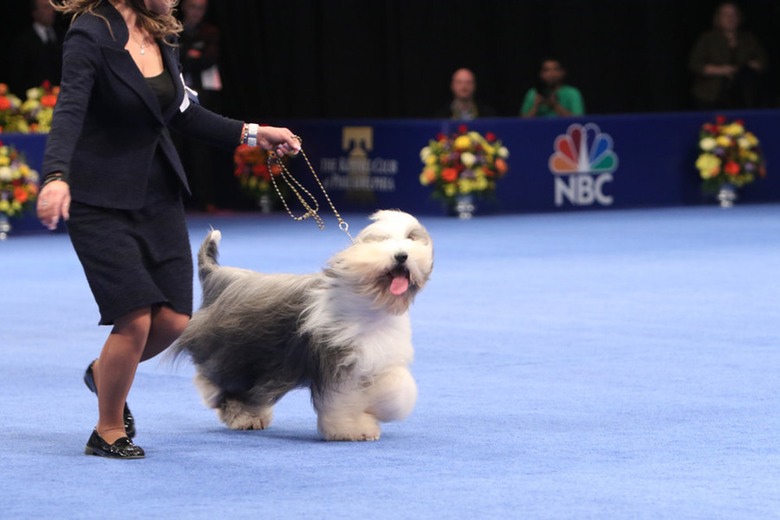 (via Bustle)
The long haired dogs, like Herding Group winner Zack the bearded collie, are especially fun to watch as they strut their stuff: when the fur blows back from their faces, you can finally see their eyes. Yes, these dogs have eyes too.
Just showing off. #TheDogShow #pekingese pic.twitter.com/DpdErwWj2F

— NBC (@nbc) November 27, 2014
The Pekingese winner this year looked especially delighted to be on television, and hammed it up for the cameras by sticking its little tongue out.
We're definitely looking forward to next year's National Dog Show!