One doesn't normally associate zombies with slippers (sure, stranger things have happened…), but actor Norman Reedus, arguably the biggest star of AMC's sprawling, soap opera zomcom, The Walking Dead, is an unabashed proponent. To wit, the image embedded below, which captures a more casual and relaxed side of the Internet and TV superstar.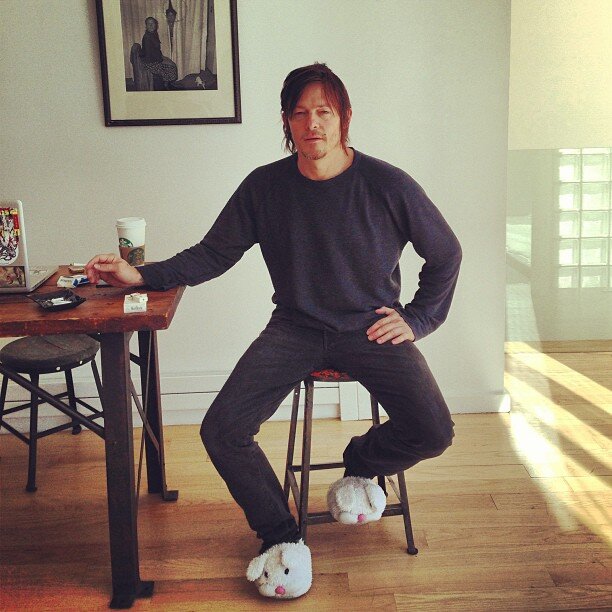 [Image via Twitter.]
In fact, not only does Norman Reedus wear a pair of bunny slippers, he encourages everyone else to do so! Asked by GQ what "10 Essentials" he would need in the zombie apocalypse (interview embedded below), Reedus reveals a taste for creature comforts (pun totally intended, BOO-YAH!): an espresso machine, Ray Bans, his Triumph motorcycle, vacuum robot, et. al. The last item on his list? Bunny slippers, which he "carries with him all the time." No joke, yo, straight from the source:
Had that been the end of it, Reedus' bunny slipper credentials would still have been secured. But, spoiler alert, it wasn't! In an animated short staring his beloved cat, Eye In The Dark, the bunny slipper beat comes full circle and is paid off to comedic effect. Watch the LOLs below!
Got a favorite Daryl moment? Let us know about it in the comments below!
Contact us: travis [at] bunnyslippers.com