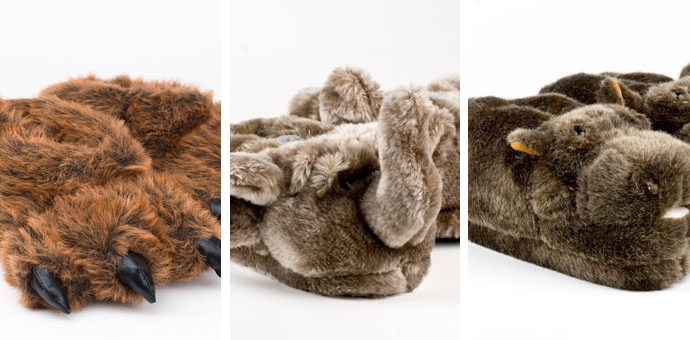 We've already presented you with our selection of top girl slippers, so this time around we'll even it all out with some of the top big boy slippers the web has to offer. It's all exclusive stuff here at Bunny Slippers, so join us for yet another rundown below!
Elephant Slippers
The calm guy who remembers it all, Mr. Elephant gets to kick off the list this week. With those cute beady eyes and floppy ears, this cute feet-warmer is bound to become the best friend of your tootsies.
Bear Slippers
As the epitome of a strong, yet nice and fuzzy boy, bear was a shoo-in for our list. As fuzzy as Mr. Bear himself, this pair of slippers will take your feet coziness to a whole new level.
Hedgehog Slippers
Representing every big boy's fuzzy side, we've decided to throw in a pair of fuzzy hedgehog slippers as well, just for kicks.
Hippo Slippers
Finally, the ultimate big boy – the one and only Mr. Hippo. One thing's for sure – when it comes to feet comfort, you can definitely rely on this guy. Get a pair and see it for yourself!