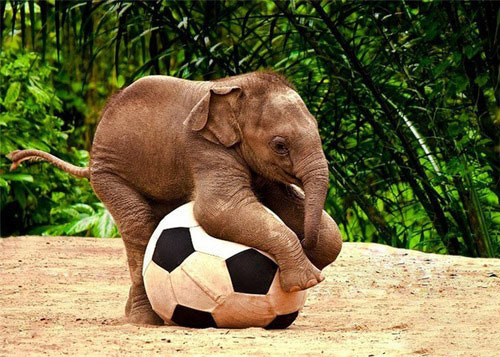 The FIFA World Cup is in full swing! Soccer (or football) fans around the world are busy cheering their hearts out for their country's team. Here at BunnySlippers.com, we've compiled a selection of animal slippers representing some of the participating countries. We can't all be in Brazil, but with these slippers, you can support your favorite team from the comfort of your own couch!


Brazil – Armadillo Slippers: Like the armadillos of their country, the Brazilians come to the World Cup stage fully prepared for battle. Cheer for the home team in style!




Mexico – Green Turtle Slippers: While the Mexican Futbol team is anything but slow, these sea turtles nest all over the Mexican coast, and are Mexico's official national reptile.


Chile – Penguin Slippers: Penguins don't just live in Antarctica! They can also be found in Chile. Watch the Chileans march to victory in these penguin slippers, the best dressed of all animals.




Australia – Kangaroo Slippers: Naturally, kangaroos are the national animal of Australia. These slippers are perfect for a walkabout or just a lazy day on the couch!


Ivory Coast – Elephant Slippers: What better slippers to wear while cheering on the Ivory Coast? Support Les Élephants in these elephant slippers!




Japan – Godzilla Slippers: Godzilla or Gojira! as he is called in Japan, is a watchful guardian and is taking on all comers.




Greece – Dolphin Slippers: According to Greek myth, dolphins were former sailors that often helped the shipwrecked, and today, dolphins are the national animal of Greece. Wear these Greek Dolphin slippers as the team consults Nike, the goddess of Victory.


Italy – Wolf Slippers: Rome wasn't built in a day, but legend has it that a wolf gave suckle to Romulus who founded that great city. Cheer for Italia like Caesar with these wolf slippers!




England – Bulldog Slippers: With these English Bulldog slippers, you can let your opponents know that you've put away your tea and crumpets and now you mean business.




Uruguay – Sea Lion Slippers: Cheer for Uruguay from the shores of Montevideo to the peak of Cerro Catedral in these sea lion slippers!


France – Bichon Frise Slippers: Live la vie en rose and root for the French with these Bichon Frise dog slippers!




Switzerland – Bernese Mountain Dog Slippers: The Bernese Mountain Dog, hailing from the Swiss city Bern, is a gentle giant, but you're going to have to take Switzerland seriously with these slippers.


Argentina – Cow Slippers: Cheer for Messi and the Argentines and celebrate Argentina's largest industry at the same time with these comfy cow slippers!




Iran – Asiatic Black Bear Slippers: A new power player in the world stage and on the pitch, support Iran with black bear slippers.


Germany – Schnauzer Slippers: Adorable dog originally from Deutchsland; known for its signature mustache. If only every slipper had a mustache…




United States – Bald Eagle Slippers: Bald Eagle slippers are good for more than just cheering on the USA to victory: these slippers are excellent for all patriotic occasions or just lounging like a real American.


Belgium – Lion Slippers: Belgium may be small, but its pride is as large as its national animal, the lion. Show your support for this powerhouse team with these lion slippers.




South Korea – Tiger Slippers: Root for South Korea if you've got tiger in your Seoul. Tigers are the national animal of South Korea and featured on the crest of the Korea Football Association, and these tiger slippers are a great way to cheer on "The Reds."




Russia – Bear Slippers: These Russian bear slippers representing the Motherland should give you paws!