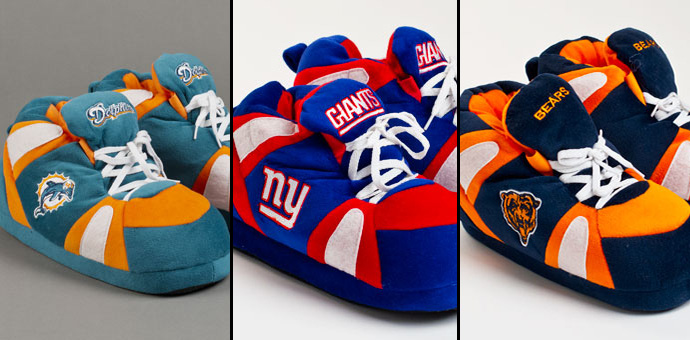 Welcome to another weekly slippers guide! This time around, we'll delve into the NFL domain as we find a perfect pair of slippers for all you football fans out there. There's plenty to choose from here, so without further ado – join us in our rundown!
Chicago Bears Slippers
Taking the viewing experience to another level, these Chicago Bears slippers are bound to take your passion level way up as you cheer for the amazing Bears to score yet another touchdown.
New England Patriots Slippers
Go Patriots! When we said we have them all covered, we meant it. Therefore, New England Patriots slippers drop in as another pair of NFL slippers for you to have. Clearly a must-have for all the fans out there.
Get New England Patriots Slippers
Baltimore Ravens Slippers
This highly comfortable pair or Baltimore Ravens slippers isn't only the ultimate fan gift, but a genuinely useful product. Just as the rest of the slippers in offer, the pair comes with ultra-soft construction and a thick foam sole, turning into a definite joy ride.
Seattle Seahawks Slippers
Taking a turn towards green, and blue, Seattle Seahawks slippers are spicing it up a bit with a pinch of that renowned grungy charm. Celebrate Seahawks victories with your very own pair of signature slippers!
Dallas Cowboys Slippers
A perfect gift for your little Dallas cowboy or any family member and friend, Dallas Cowboys slippers have all it takes to turn a Cowboys fan's frown upside down. Get your tootsies into a pair of these, grab your drink of choice from the fridge and treat yourself with about three hours of pure relaxation.
Miami Dolphins Slippers
Taking a turn towards sunny Miami, this pair of super-comfly slippers is just that magic factor to take your football-watching experience to another level. Coming with signature Dolphins colors, a pair of these is a must-have for all you Miami folks out there. Make sure to get a pair or two for the little ones as well, they're bound to love it!
New York Giants Slippers
We're in Big Apple now, paying tribute to one of the ultimate NFL greats – the one and only New York Giants. Get your game mode on and help Giants to victory with a pair of ultra-soft, light-cushioned signature slippers.
San Francisco 49ers Slippers
Finally, we'll bring it all home with a brief trip to San Francisco! Coming in distinctive red and blue 49ers color, these slippers will keep your feet warm as the guys on the field take full charge.
Get San Francisco 49ers Slippers
If you're disappointed because your favorite team isn't up here, there's more – just check out our full collection of NFL slippers. We'll be back next week with another slippers guide and until then – get your game mode on!