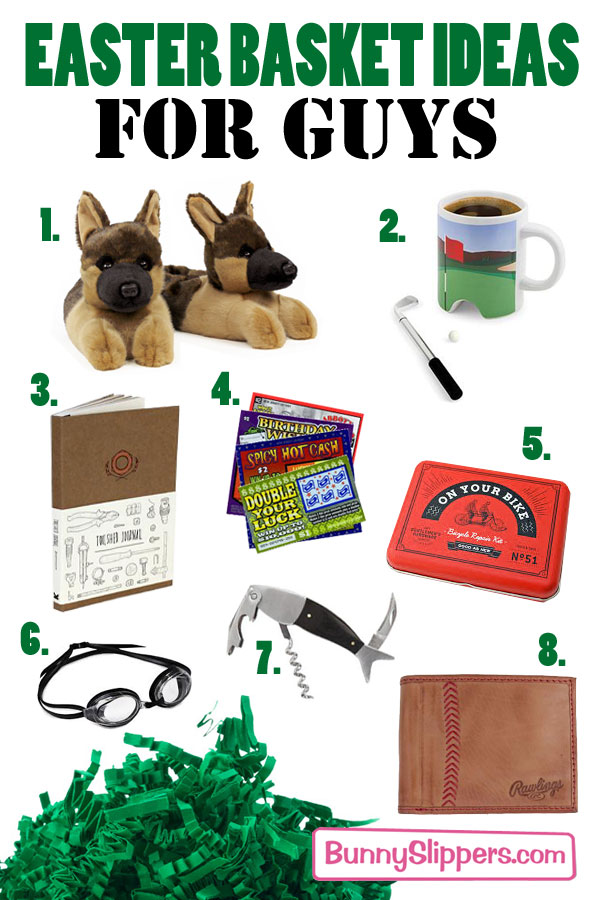 Are you planning an Easter surprise for a husband, boyfriend, or grown-up son?  We've got you covered…  Pick out a few gifts, add their favorite candy and you've got a grown-up easter basket they'll love!
 Dog Slippers: If bunny slippers aren't his thing, find his favorite dog breed, like these comfy German Shepherds!
Golf Mug: This clever coffee mug includes a "golf club" pen, and mini-golf ball for him to practice his putts while caffeinating!
Blank book: Everybody can use a blank book to doodle, jot down notes, and write to-do lists.  We love this Toolshed Journal, which contains intricate drawings of items found in a toolshed.
Scratch-off tickets: Available at most convenience stores, these are a fun interactive addition to an Easter basket (and he just might be a winner)!
Bicycle Puncture Repair Kit:  If he's into bikes, throw in a mini bicycle tire repair kit…it contains everything he needs to fix up a leak and comes packaged in a handy tin case.
Swim Goggles: Everybody could use a fresh pair of goggles…and you can start planning ahead for some summer fun!
Corkscrew/bottle opener: If he enjoys wine and beer, a corkscrew is a must have (and you can never have too many).  This Fish Corkscrew is cleverly designed to look like a fish when folded up.
New wallet: If his old wallet is looking a little shabby, he'll appreciate a new one that he can use every day (and keep his Scratch-off winnings in!).  This Baseball Bifold Wallet is just in time for spring training!
Check out our other Easter Basket Guides!
Easter Basket Ideas for a Teenage Girl
Easter Basket Ideas for a Teenage Boy
Easter Basket Ideas for your Bestie