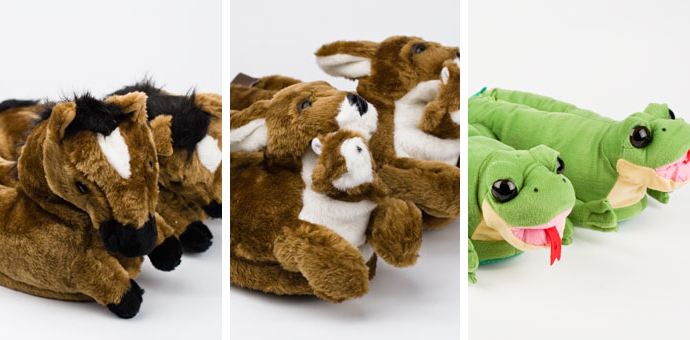 For this week's Slippers Guide, we've decided to hop it up a bit! After all, this blog is titled "From Hop to Pop," now isn't it? So without much chit-chat, check out the finest hopping slippers the web has to offer.
Kangaroo Slippers
Perhaps the ultimate hopper, kangaroo gets to kick off our list. Apart from getting a significant cuteness boost in your lower leg region, kangaroo slippers also guarantee more agility with their soft stuffing and sturdy built.
Frog Slippers
Delving into the hoppers domain without mentioning frogs would be travesty. In fact, not including this cute green guy at the top is bad enough, but we'll make it up to frog fans soon enough, just keep scrolling.
Horse Slippers
Not a typical hopper, but a gracious hopper nevertheless. Plush polyester fiber and one-inch density foam will really kick it up a notch. Many of our customers claim getting that extra dose of freshness thanks to a pair of these exact slippers, check them out if you won't take our word for it.
Fuzzy Frog Slippers
We'll end it with a smile and yet another frog representative – the one of a fuzzy kind. Seeing that smile looking at you from below is bound to make you at least chuckle, so if it's extra optimism you need – a pair of these is just the thing.