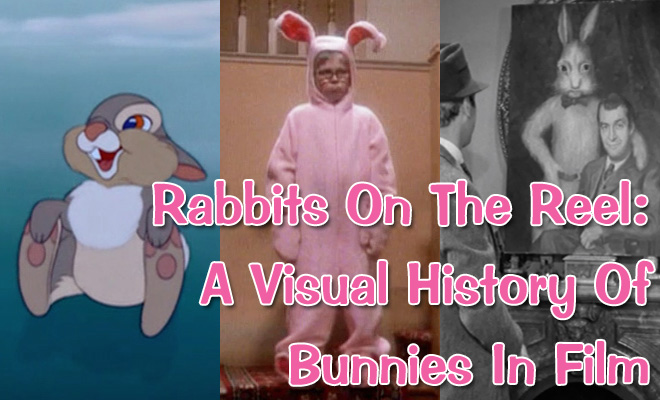 In honor of our favorite holiday, Easter, we've cobbled together a supercut – defined here as "a fast-paced montage of short video clips that obsessively isolates a single element from its source, usually a word, phrase, or cliche from film and TV" – of our favorite movie bunnies and embedded it below.
The edit includes classic selections from Bambi, Harvey, and Who Framed Roger Rabbit?, but is leavened with a selection of lesser-known, and carefully vetted, darkhorse entries.

Because we want to give this project an interactive component, we'll reward the first individual to correctly identify the source films in sequence – there are 32 total clips (including two that are audio only), pulled from 27 different movies – with a $100 gift card good for anything sold at our parent site, BunnySlippers.com. To win, comment below or message us by clicking here.

(We'll post a complete list of the movies once our victor has been identified!)
Congrats to Kai Peter, the winner of our contest! He correctly identified all of the movies in sequence and they are now listed below the jump!
WATCH: