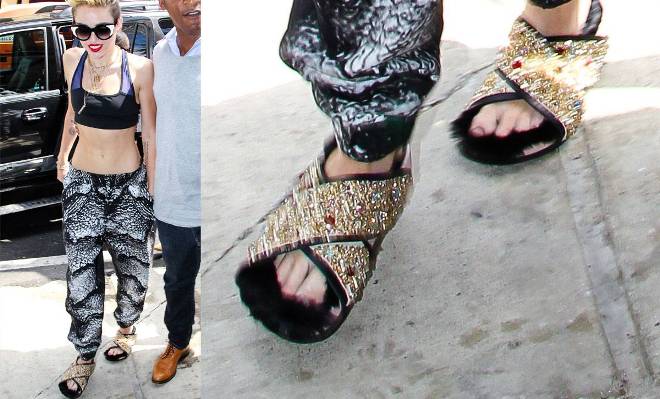 Young pop sensation Miley Cyrus recently revealed receiving a pricey gem-encrusted, mink-lined present from rap magnate Kanye West.
The gift itself was none-other than a pair of slippers; and it's not just any kind of run-of-the-mill slippers we're talking about, but a pair of Celine fur-kenstock sandals estimated at almost $1000.
As Rolling Stone repors, Miley initially bought her own pair this spring, but Kany was so impressed with the singer's VMAs performance that he decided to send her another five pairs. "After the show, Miley and Kanye met up at a Manhattan recording studio to work on a remix for his song 'Black Skinhead,' the article reads.
"The next day he sent a text: 'He said, 'I still can't quit thinking about your performance," Miley says. She also happened to mention that a pair of fur Celine slippers she'd bought were falling apart, and Kanye bought her five more pairs."
Whether you like Cyrus' slippers or not is clearly a matter of personal taste, but it's ever so clear that we are looking at a luxurious pair of flip-flops here. However, the most peculiar part here isn't the fact that Kanye spent $5,000 on slippers, that's like pocket change for the guy; it's the fact that a pair of $1,000 flip-flops fell apart after being worn merely a few months, and by someone who probably wears an entirely different outfit almost every day.
But still, we can guarantee that Miley made a really good choice with her pair of unicorn slippers a few weeks ago. We know cool slippers when we see a pair, so definitely take our word for it.