As the legendary radio DJ Casey Kasem used to say, "Keep your feet on the ground, and keep reaching for the stars!" Here at Hop to Pop, we put our own twist on it: "Keep your feet extra cozy, and let the stars tell you what slippers to wear!" It's got a nice ring to it, doesn't it? Well, dear reader, we thought it would be super fun to pick out slippers inspired by the twelve signs of the zodiac. What is the perfect pair of slippers for your sun sign? Read on to find out!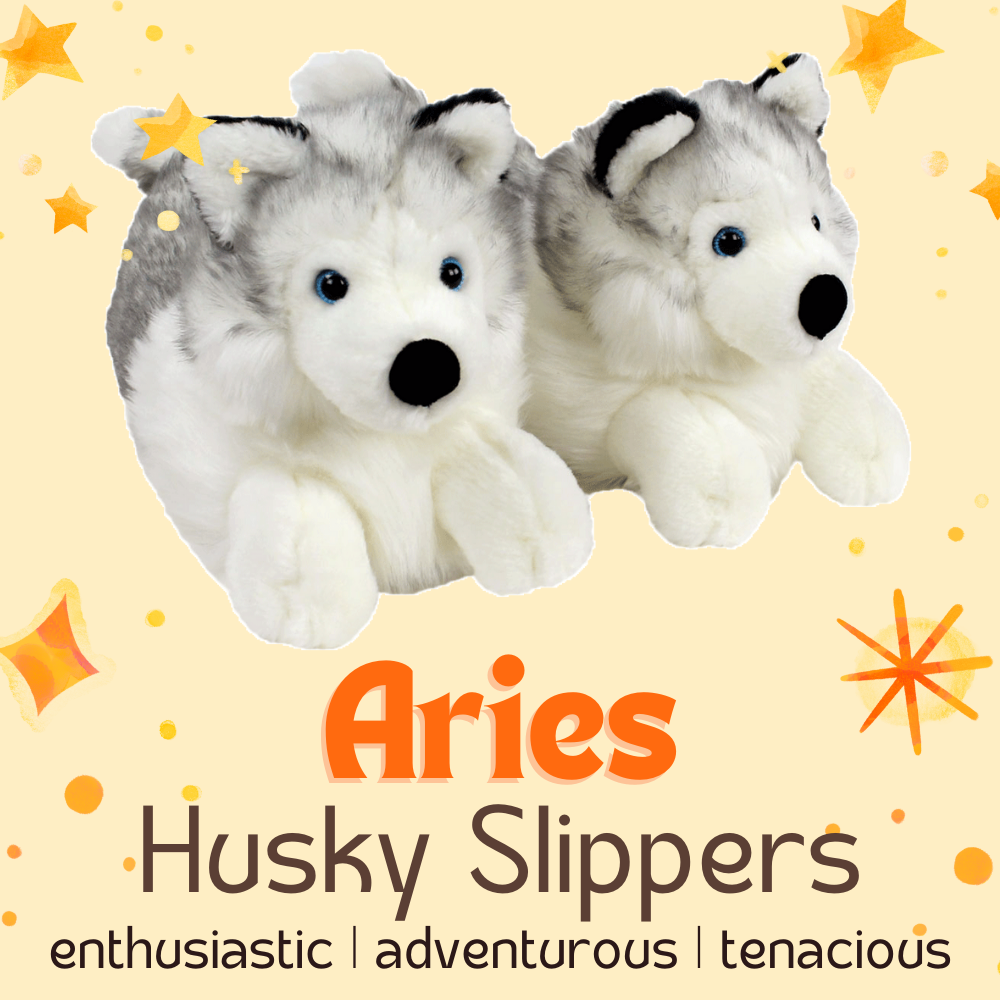 Aries: As the first sign of the zodiac, Aries is adventurous, bold, and likes to lead the charge! An Aries never shies away from a challenge. While the classic representation of this fire sign is a Ram… we thought our Husky Dog Slippers fit the bill. Imagine a team of Husky sled dogs racing across Alaska over mountains and through snow, sleet, and dark of night… now that's Aries energy if we've ever seen it!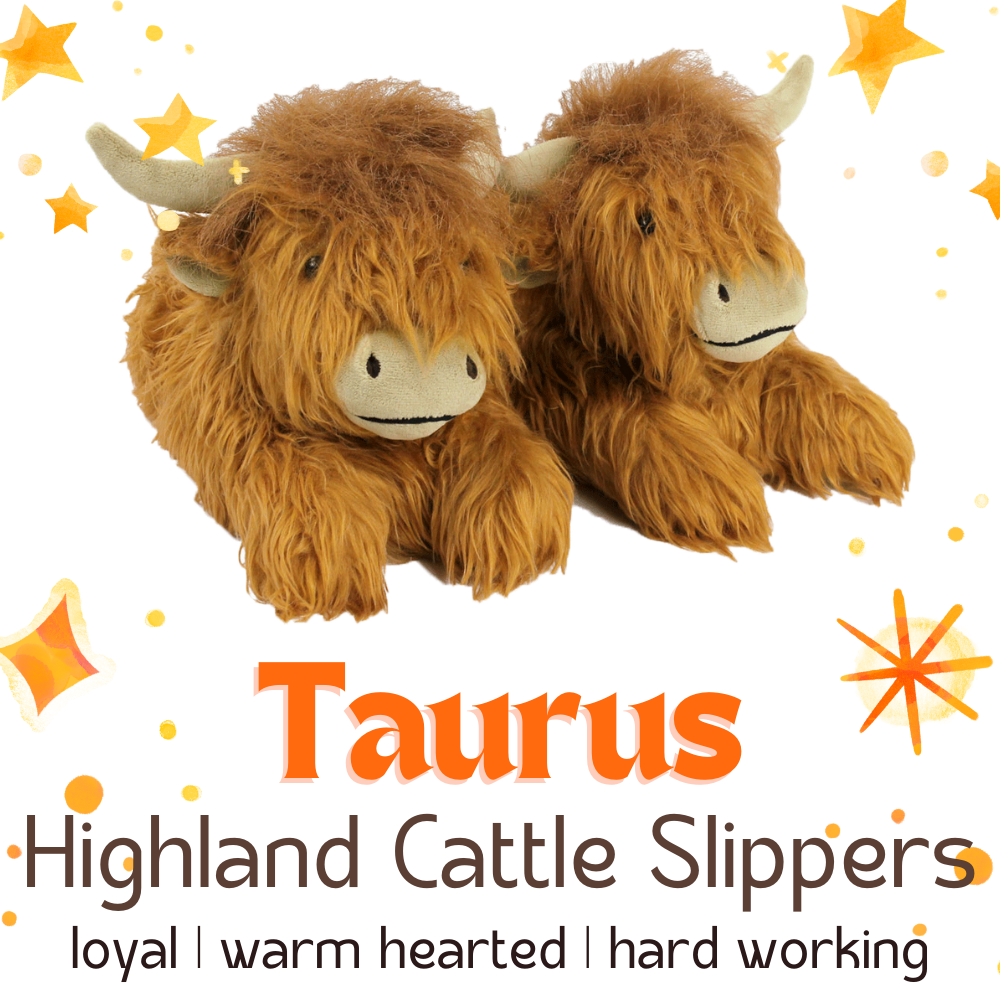 Taurus: The reliable Taurus is known for being practical and maybe a wee bit stubborn. They love luxury in all forms. These lovely Highland Cattle Slippers are our most bullishly charming… from their long horns to their gorgeous ginger coats. We can see these earthy Tauruses relaxing in the serene Scottish Highlands and munching on some clover.
(The Highland Cattle are temporarily out of stock…you can join the wait list by heading over here, and clicking on the blue button. Add your email, and we'll notify you the moment they come lumbering back into stock!).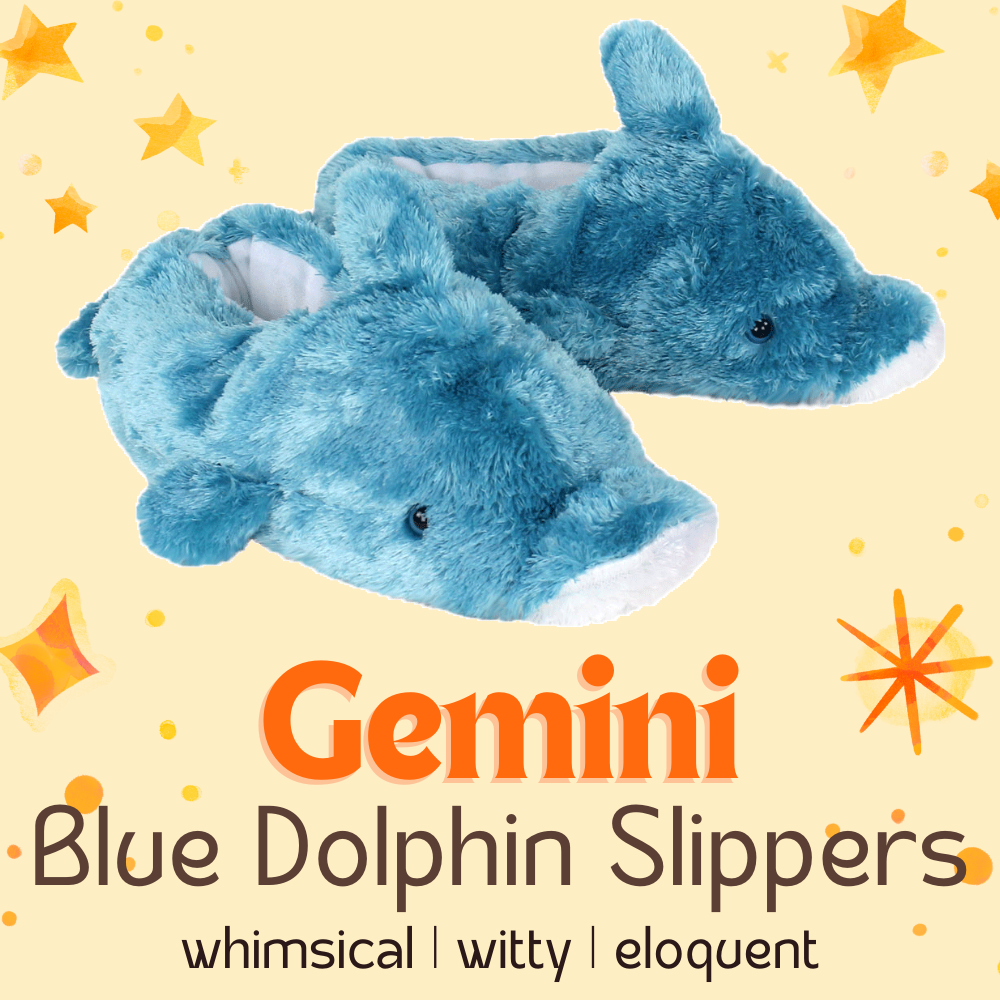 Gemini: Nothing says Gemini quite like a pair of Blue Dolphin Slippers! These playful twins are charming, mercurial, curious and difficult to catch. And they've got the gift of gab…(cue the Dolphin sound effects). We can see it now: two Blue Dolphins playing in the waves, chatting back and forth, and exploring new and exciting parts of the ocean. Wander on, Gemini dolphins!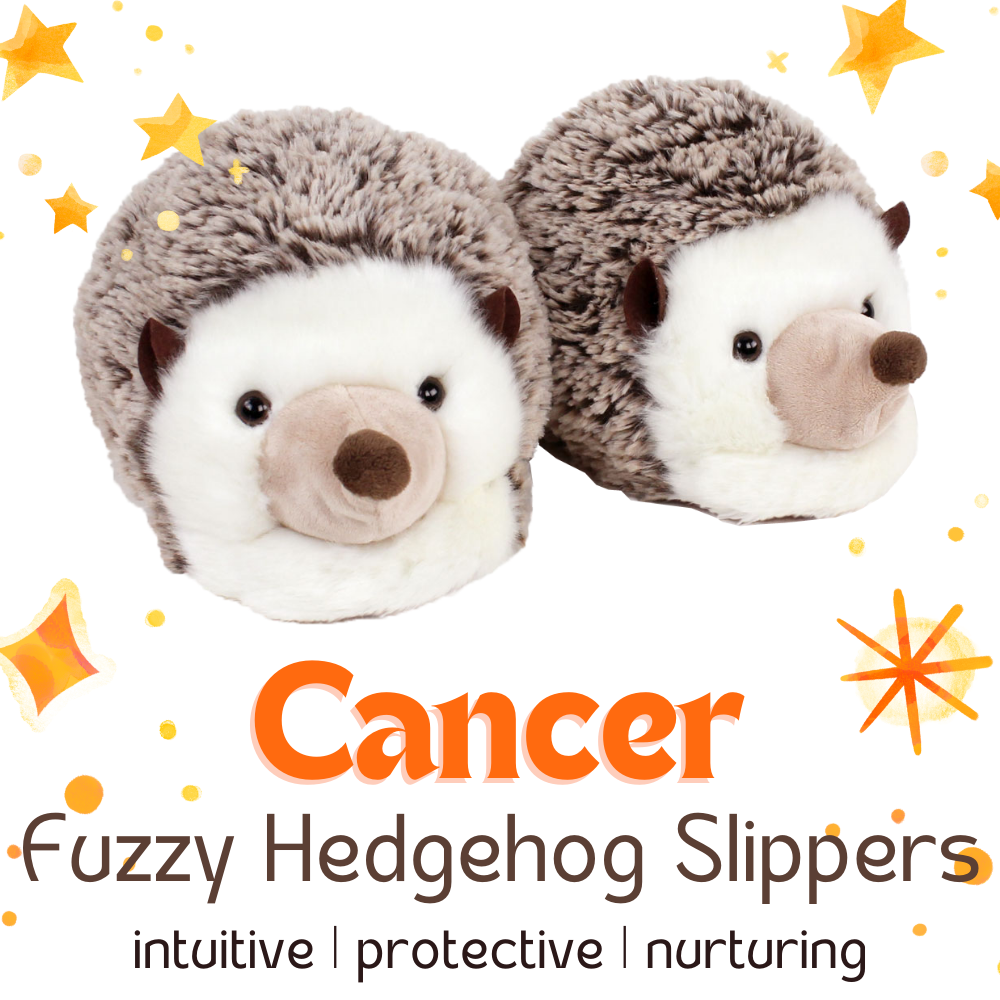 Cancer: This intuitive sign is known for moving fluidly between the emotional and material realms. Cancers are thought to be highly sensitive and maybe just a little bit psychic. While the classic representation of this sign is a crab, we think these Fuzzy Hedgehog Slippers are a perfect representation of Cancer energy–as the Hedgehog can roll up into an adorably spiky ball to protect its sweet and gentle self.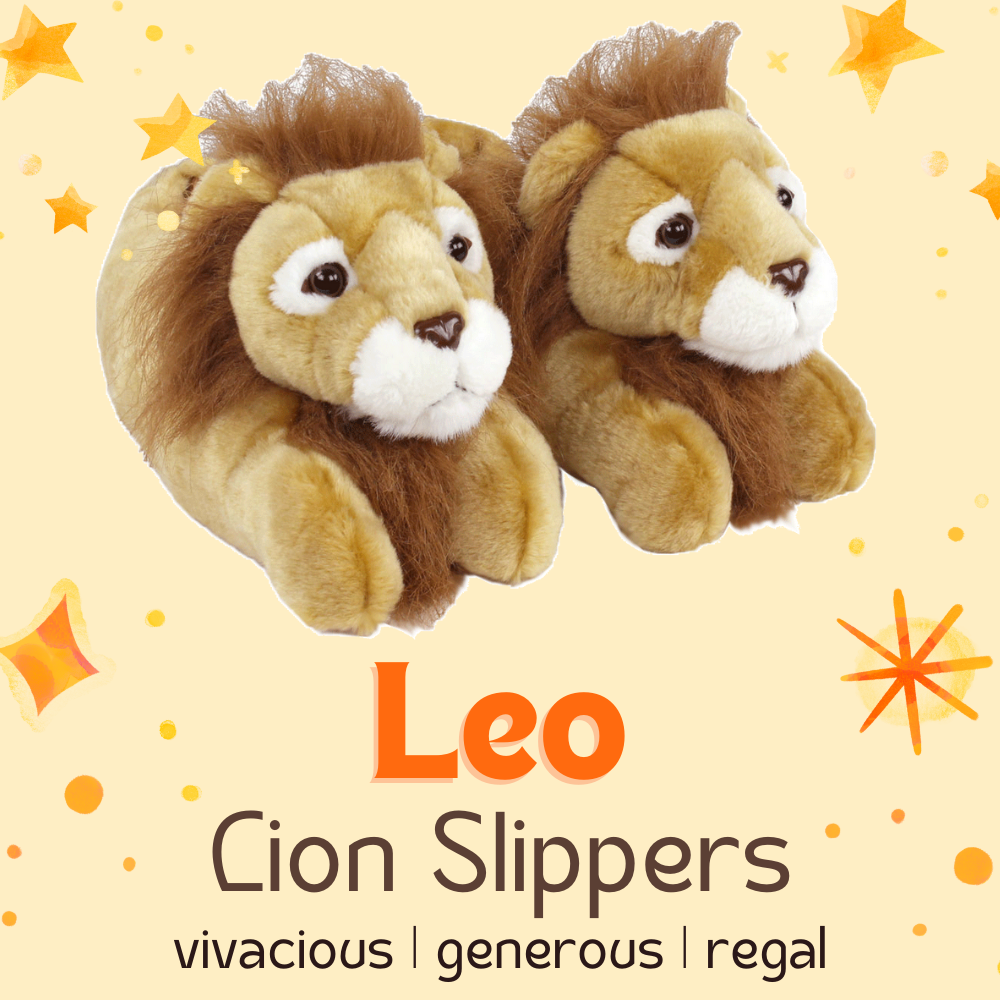 Leo: Now this one is obvious… Leo has found its perfect match in these regal Lion Slippers! Known as being passionate, vivacious, and maybe a little dramatic… a Leo is a king or queen wherever they roam. Lions represent the Leo's bold and fearless nature, and these Lion Slippers are sure to steal the show.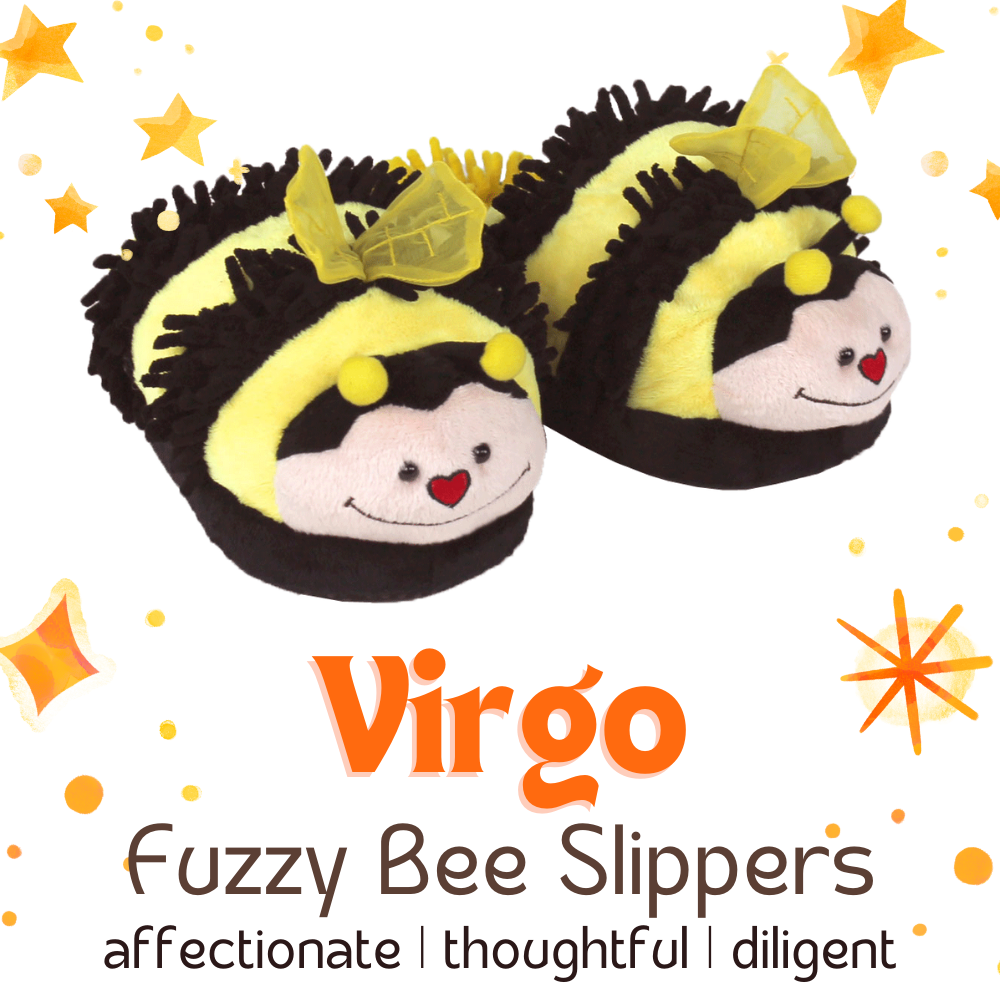 Virgo: When you think of someone who's "as busy as a bee," that person is probably a Virgo! This diligent earth sign is known for its practicality, attention to detail, cleanliness, and ability to create abundance. We just imagine a bee buzzing throughout the day, pollinating plants, returning to their tidy little honeycomb homes, and making honey. These cheerful Fuzzy Bee Slippers are Virgo to a t!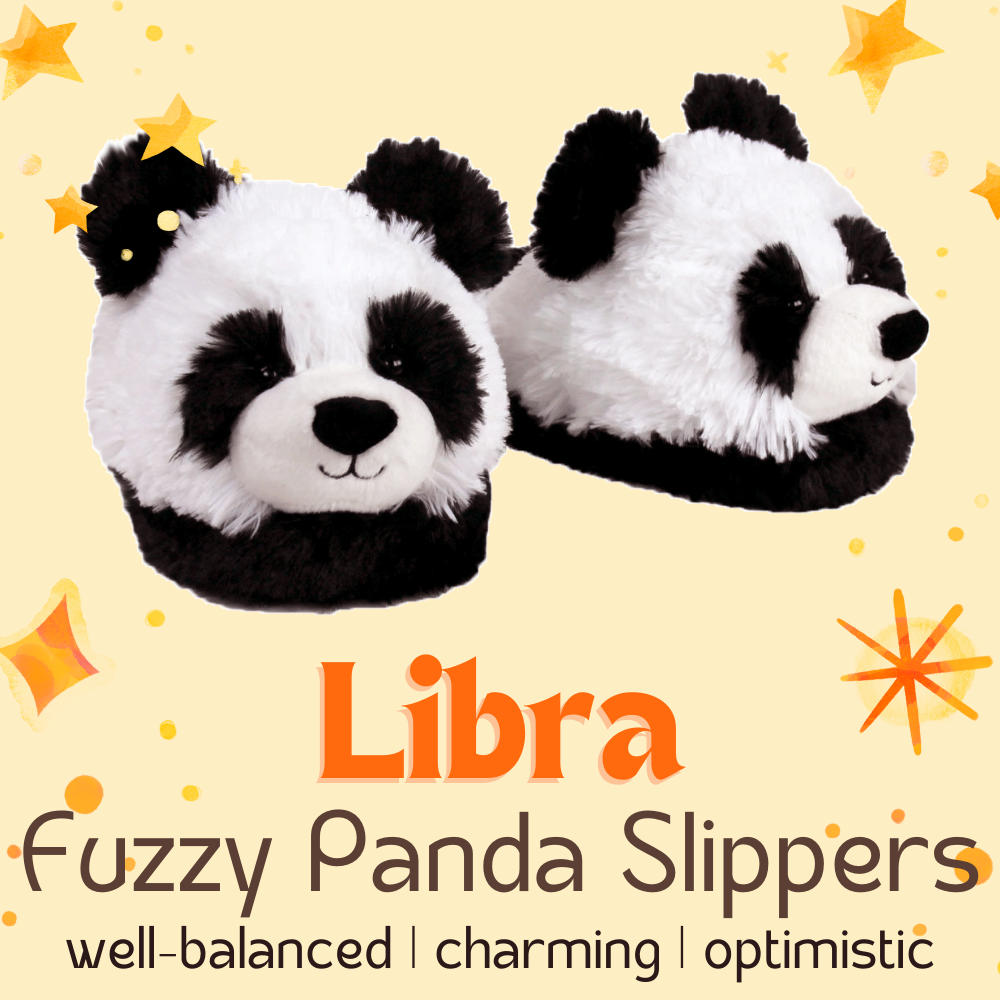 Libra: Libras are known for their charm, grace, and sense of balance. We think these Fuzzy Panda Slippers are the perfect representation of this peace-loving sign. Although Pandas are not the most physically graceful (hahaha), they have a easy-going nature, in terms of cuteness, they are the perfect balance of black and white fur.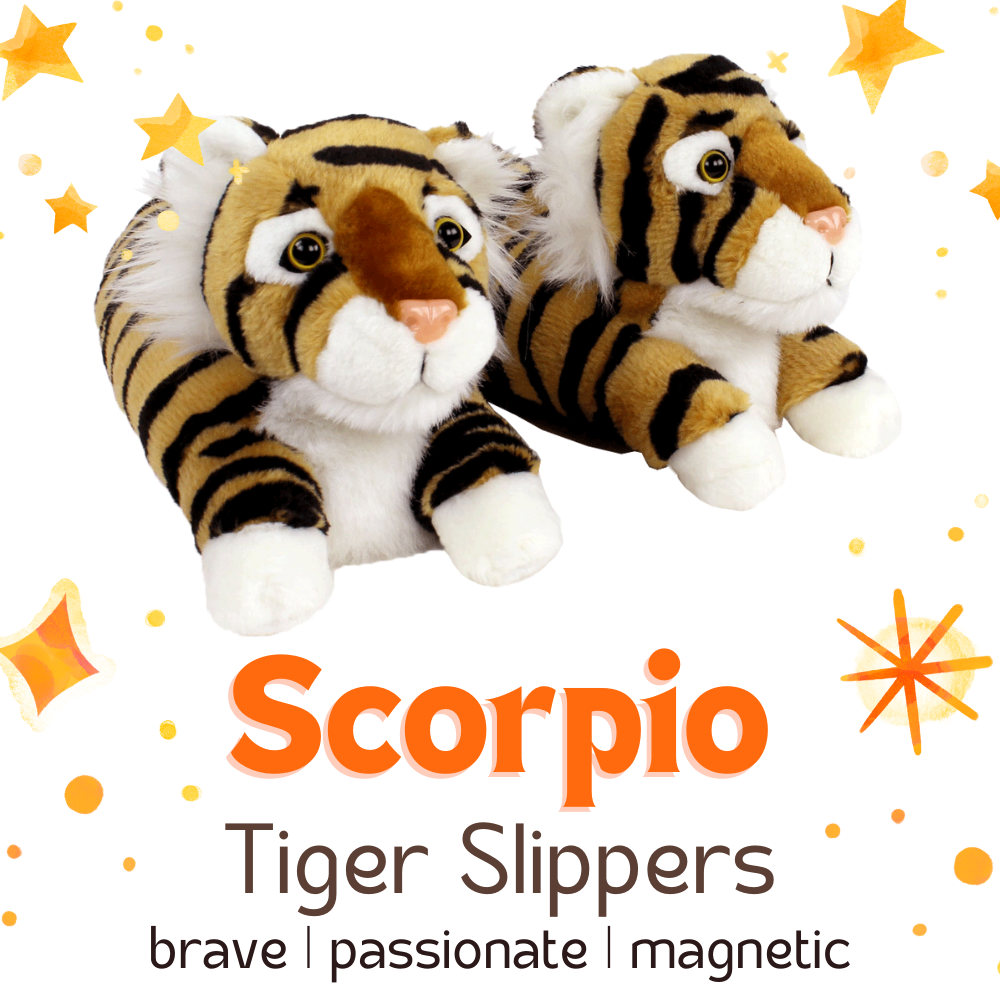 Scorpio: No, we don't have any Scorpion Slippers! (Although that would be very exciting!) But we thought that Tiger Slippers embody the spirit of the Scorpio. Known for being intense, passionate, mysterious and occasionally fierce… the elusive and majestic Tiger is a perfect match.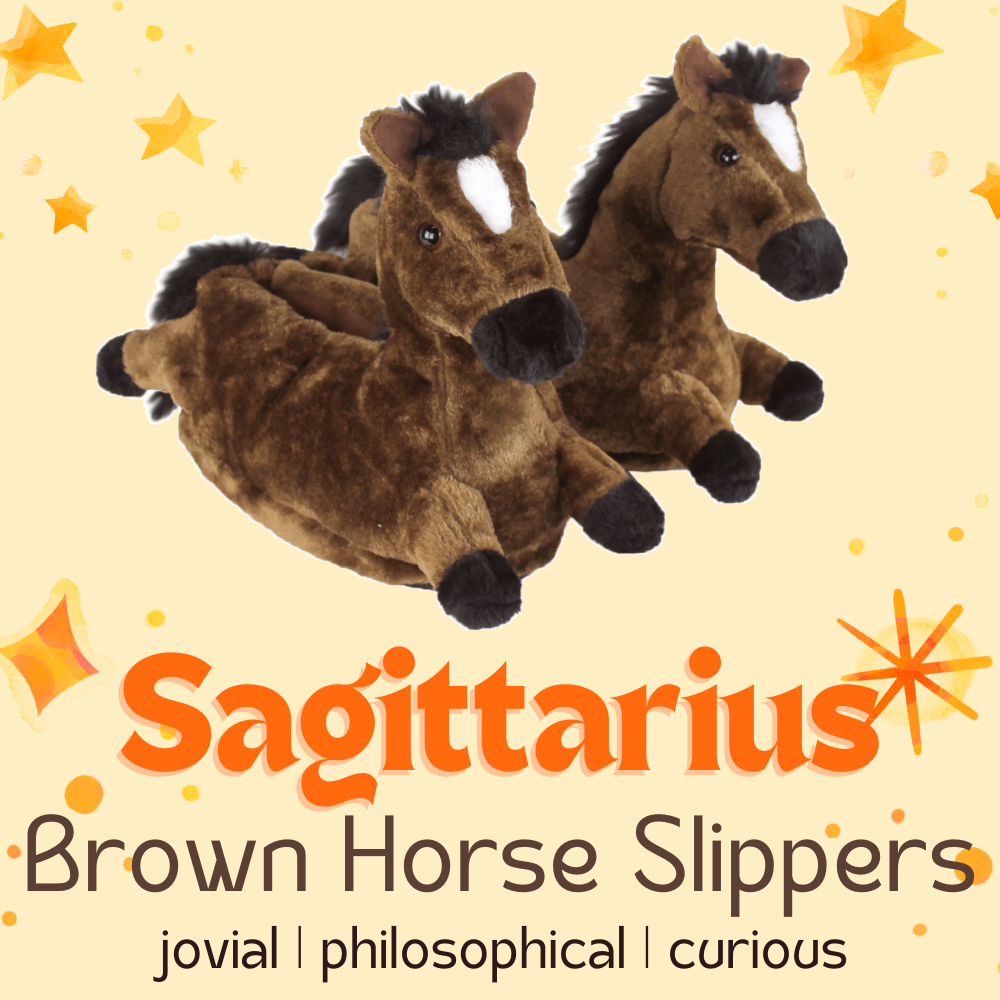 Sagittarius: Known as the philosopher of the zodiac, the Sagittarius is a free spirit who loves travel and chasing after adventures of all kinds. We can imagine a beautiful wild horse galloping the countryside in search of adventure! These Brown Horse Slippers embody the jovial and curious nature of the Sagittarius.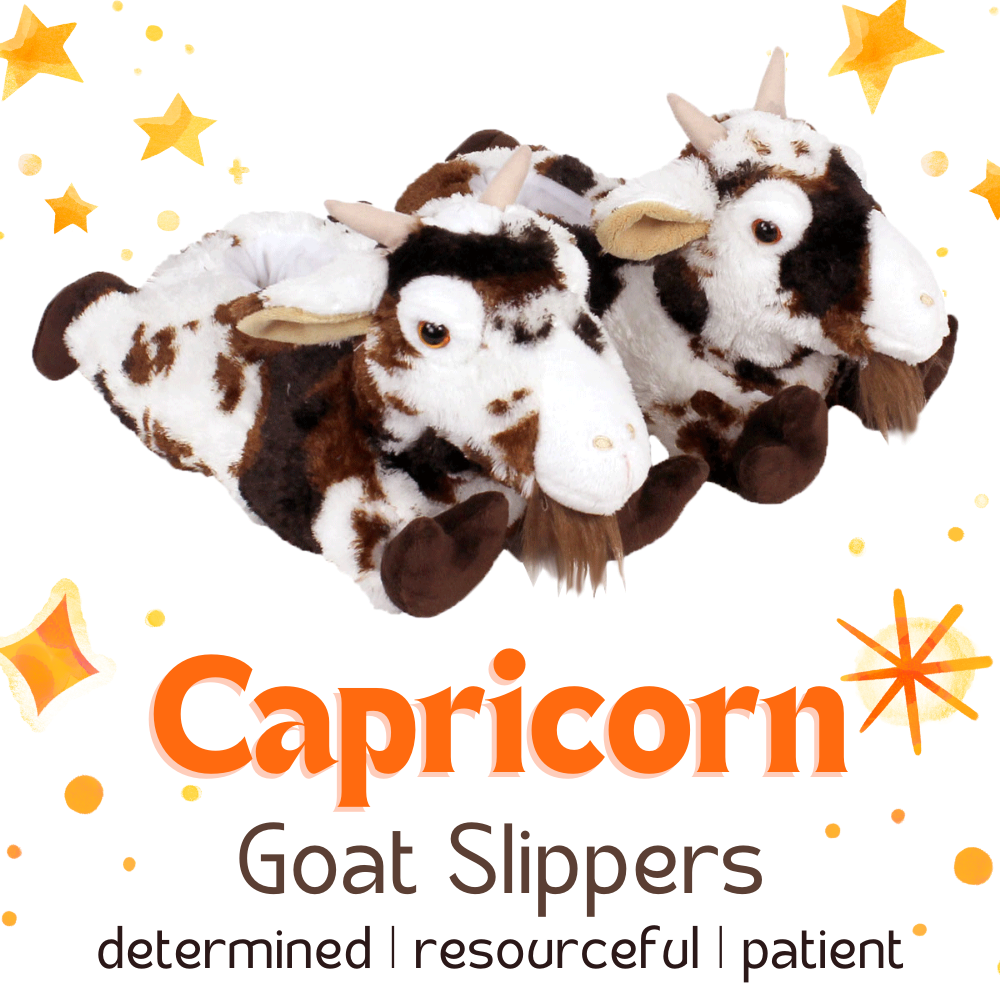 Capricorn: Just as a mountain goat reaches the great heights of a mountain one step at a time, Capricorns are known for their determination and dedication. Steady and patient, while also known for their agility and vitality, Capricorns can scale mountains, or move them! These Goat Slippers are the perfect pair for an ambitious and determined Capricorn.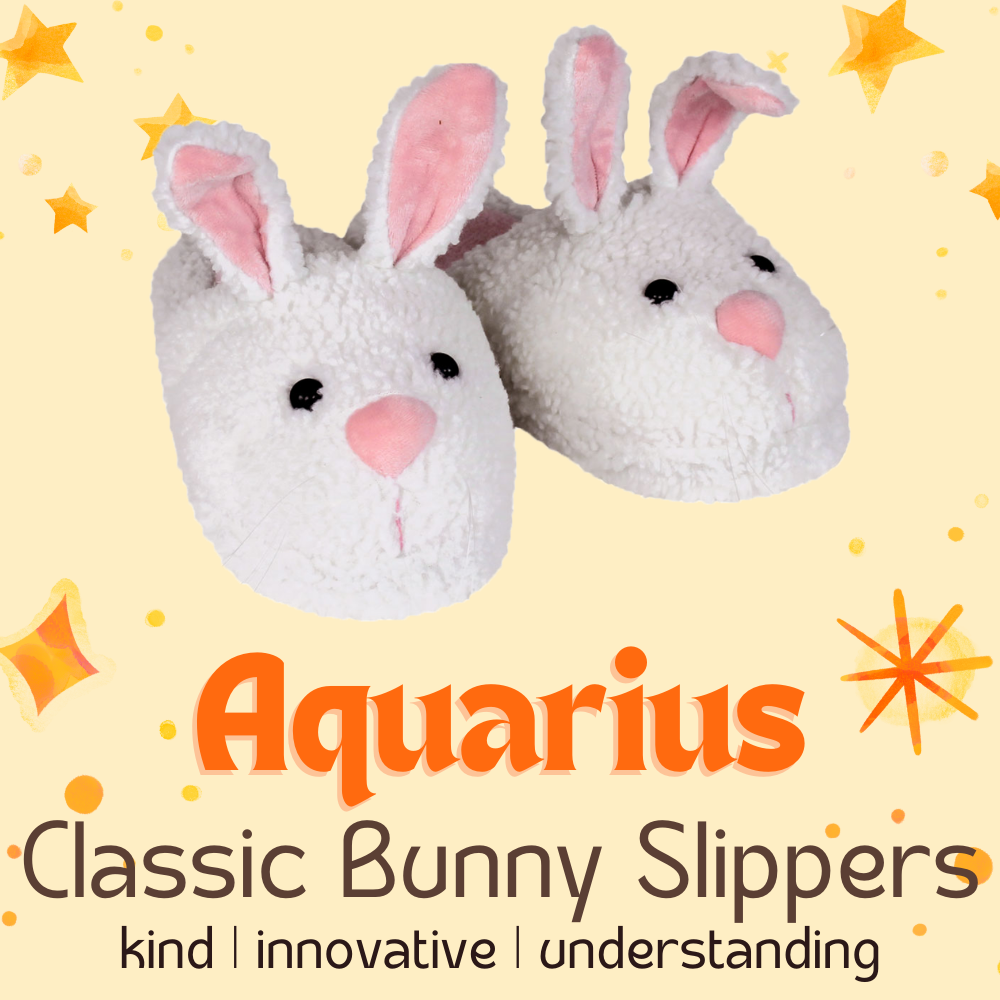 Aquarius: This air sign is known for its love of friendship and community, while also having an independent and quirky nature. (Quirky enough to wear Bunny Slippers? We think so!) Rabbits represent an Aquarian's agile, adaptable, and nurturing nature…making our Classic Bunny Slippers™ a good match for Aquarius!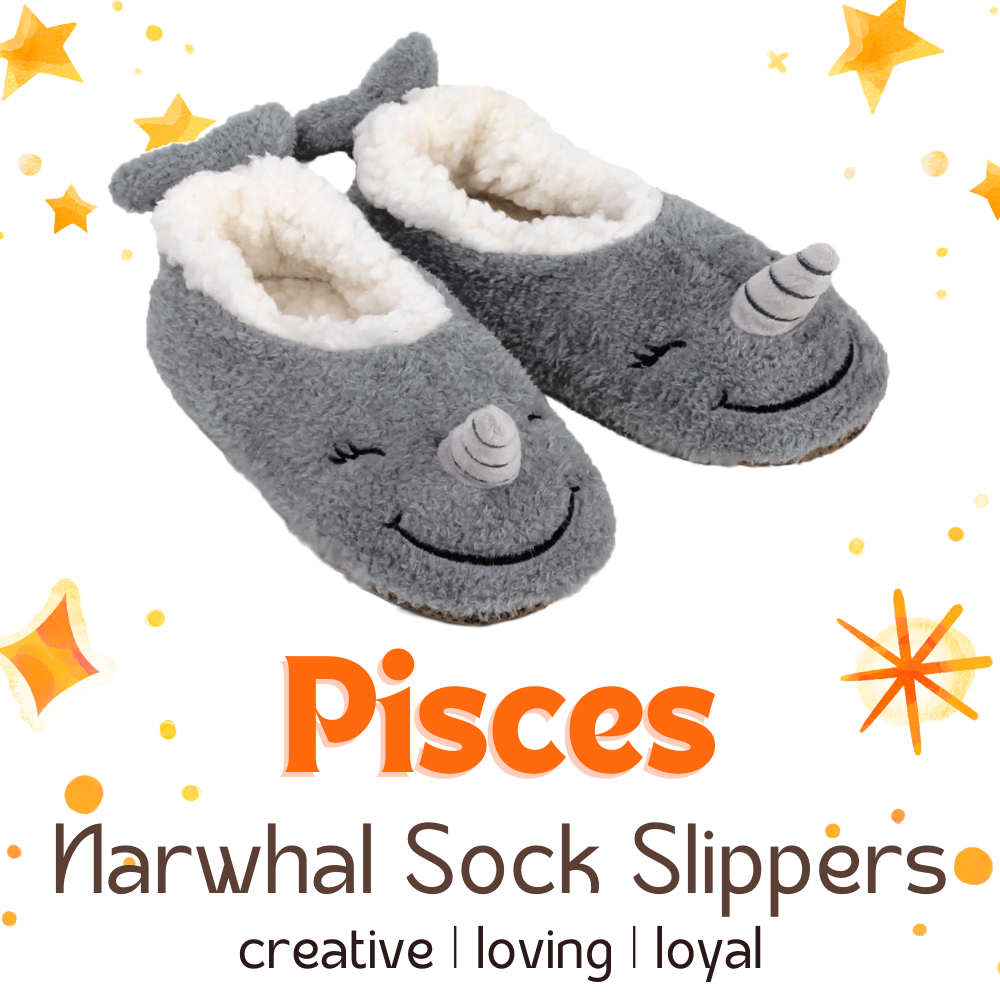 Pisces: Intuitive, sensitive, and empathic, the Pisces is the last sign in the zodiac. Pisces' dreamy nature allows them to fluidly move between fantasy and reality, while remaining serene. We think these Narwhal Sock Slippers suit the water nature of this mystical sign… as they look like a cross between a unicorn and a sea mammal!