Any basketball fans out there? The first round of the men's March Madness college basketball tournament officially kicks off today. That means it's time for hours of lost productivity at work, extensive analysis of each team, and of course, all that buzz about Warren Buffett's billion dollar bracket.
This year, we wanted to get in on the fun too, so today we're very proud to present our Slipper Showdown bracket contest. For the first time, our slippers will face off against each other in a tournament of cuddles, happiness, and love, and only one can claim the title of Slipper Champion 2014!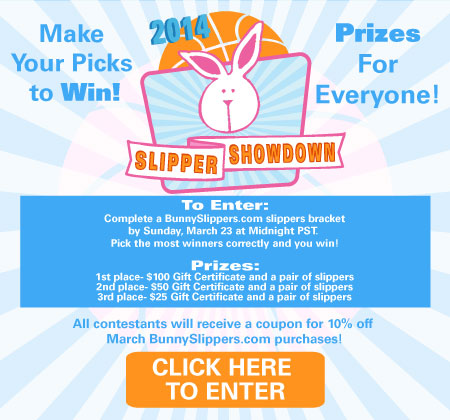 Want to play? Make your picks by March 23: the best bracket will win a $100 gift certificate and slippers. We'll also award prizes for 2nd and 3rd place, as well as coupons and other prizes just for entering.
Good luck!